Jockeys apart
Jockeying promises the youth an eventful future, be it as DJs, VJs or RJs, writes Usha Albuquerque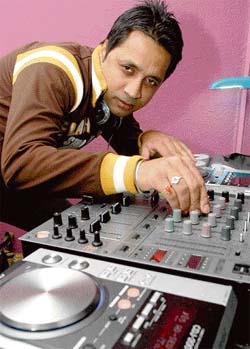 WHO hasn't been entertained by 'Ulta Pulta' Nitin's chatter, or Akashwani's Vividh Bharati? In India, radio still has a very large audience. In fact, its audience is far more than any other medium of communication. Whether in towns or villages, cities, shops, homes, even Delhi's local buses, radio is the common source of information and entertainment.
But today, radio is no longer what it used to be. The last decade has brought about a sea change in the world of media and entertainment. Radio, in particular, has undergone a revolution. From the sober sounds of Akashvani, radio has metamorphed into the non-stop chatty, witty monologue of new players such as Radio Mirchi, FM Rainbow, Red FM, Radio City, etc. FM Radio has already ushered in a brand new style of radio presentation, making it interactive and a lot more fun. On TV too, VJs have become so popular with the coming of MTV, Channel V and B4U music that hosts like Nikhil Chinappa, Cyrus Broacha, Malaika Arora and Nafisa Joseph have become household names and pop idols in India.
And it is not just RJs and VJs for whom opportunities are growing. It is jockeying in general, which has opened up new avenues in the world of entertainment. So, if you have the gift of the gab, can talk non-stop and like to lose yourself in the world of music, this offbeat career could mean a new world of opportunities.
All work, some play
Music jockeys broadly work in three areas—as DJs, RJs and VJs.
Disc Jockeys: A disc jockey (DJ) can work with radio, television, for entertainment shows and at clubs and discotheques. DJs are most often seen in discotheques and nightclubs, where they play the tunes that people dance to. A disc jockey presents a selection of music that's in tune with the rhythm of the audience. They're also often called to fire up the dance floor for private parties, events and a variety of different functions.
Video Jockeys: Among the most popular TV shows are the music programmes with live VJs. Of course, for this, it is as important to look good as it is to sound good, which is not the case for DJs and RJs.
Radio Jockeys: The coming of FM ushered in the radio jockeys, or RJs with a difference. RJs anchor music programmes on radio. They play requests from listeners, interview guests and manage contests.
An RJ should be able to connect to the listener who he/she cannot see, should be friendly, spontaneous, warm and friendly, have a good voice and good command over the language. In addition to playing music on air, they also provide information on the music, weather and traffic. Most of the FM channels prefer to take on youngsters as they have new ideas, concepts and are bubbling with enthusiasm.
RJs and VJs host a variety of programmes, including talk shows with film stars and other personalities, dial-in shows where you can dial in to chat with the host and get your message across, as well as shows where you can page in your messages. RJs and DJs work on these programmes at the TV or radio stations where they select the kind of music pieces listeners would like to hear and most often write their own scripts.
They are also required to have some knowledge about the music, or the composer, and other information that will be of interest to listeners. This often involves some amount of research work.
Journey to jockeying
There are no specific eligibility criteria or training courses for becoming an RJ or DJ, although most channels prefer to take on graduates. You might have to undergo a written test or audition for selection. A VJ may also require to have good presentation skills and screen presence.
At present, there are few institutions in India that offer courses in radio jockeying or disc jockeying. Some institutes such as the Asian Academy of Film and TV, Noida, the Fortune Institute of Communications, Gurgaon, the Apeejay School of Communications, Dwarka, Delhi, and the Take One Academy of Broadcasting, Chandigarh, offer courses in TV and radio presentation which includes modules on 'DJaying'. The Xavier Institute of Communications, Mumbai, offers a short course in announcing, broadcasting and compering.
Sound sense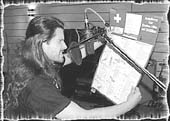 Some well-known DJs have opened their own training schools. DJ Sunny Sarid, one of the earlier DJs, has set up a training school, The Sound of Music, while DJ Rummy Sharma, has started his own school, The Studio Bakers, and Modus Operandi is being run by DJ Sumit Budhiraja. The training fee can range from Rs 10,000 to Rs 50,000.

There are also short-term workshops that focus on pronunciation, reading styles, music appreciation and creative thinking conducted from time to time.

The British Council, the National School of Drama, the YMCA and some other institutes conduct short-term courses in public speaking where intonation, modulation of voice, pitch etc is also covered. Some institutes also offer diploma and certificate courses in music, and sound recording.

But more than training, to be a good DJ, or RJ you need a good voice, a strong vocabulary, coupled with good diction. An innate ear for and interest in music is another definite prerequisite. Moreover, a knowledge of acoustics and sound recording can be a major help.

So, training in voice modulation can certainly take you places. An RJ's voice has to convey all that the body language cannot. You must know how to empathise with your audience—when to be soft, or stern, when to sound happy or grim—the use of the right words at the right time is what distinguishes one RJ from another.

VJs need a strong presence onscreen. In addition, a diploma or degree in acting, theatre or dance goes a long way.

On the other hand, a DJ should have a strong understanding of the latest trends in music and what people like to listen or dance to. He/she must have a knack of playing the right kind of music at the right time. It is also essential for

DJs, VJs and RJs to have an interest in and awareness of all aspects of the entertainment industry.

So, if you have a good voice, can chat twenty to the dozen, and feel you have a career in the making, it may be useful to listen to a lot of radio, try to put yourself in the shoes of listeners, try and come up with innovative ideas. Record your voice using wit and high energy and ask your friends to listen to you. They could be your best critics, as well as strong supporters.

Host of jobs

DJs can work at discotheques and nightclubs; restaurants and hotels. They can also work at music stores. And often, DJs are invited to compere live shows and events. Apart from this, professional RJs and DJs also keep conducting workshops for training those who have potential.

To get a job as an RJ with AIR, you have to apply to the radio station. AIR conducts auditions from time to time and these are announced on the radio or advertised in the national dailies. Usually, there is a written test too. Once you clear the written test and the voice auditions, you will be called for training. AIR gives an orientation after the final selections have been made.

Private radio channels have their own systems of selection, but they do conduct auditions and personal interviews before granting jobs to RJs.

With the advent of so many private radio channels, there is an increasing demand for new RJs. Moreover, once you get established as an RJ and people get to hear your voice, you can get a lot of other assignments and contracts. RJs can get called for doing voiceovers for advertisements, documentaries, etc., for CD-ROMs, computer games, and commercial films. They can be called by organisations to act as Masters of Ceremonies and for compering live shows and events.

One good thing about the profession of radio jockeying or even disc jockeying and video jockeying is that there are no regular working hours. Moreover, one can pursue other careers too at the same time.

Money matters

Depending on the nightlife of the city, a DJ can start earning anything between Rs.500 and Rs.1,000 per night in discotheques and nightclubs.

RJs and VJs start at anything between Rs 8000 and 14,000 per month, depending on the programmes they have in hand and the company they are working for. A Radio Jockey could be working three to four days a week, or even once a week. However, other projects such as voiceovers or compering can fetch them a lot of money.

Fame comes early to those who are talented and the successful ones can make good money, some established RJs/DJs earn as much as Rs 1,00,000 a month.

Be warned, though: this career isn't all whoopee! You have to work crazy hours and late nights, and you'll also be at work while the rest of the world is out partying.

So, what do you think? Hit the right note and get paid to have people listen to you. As the leisure business blooms, there will be an increasing demand for people who can entertain. This means more and more jobs for jockeys of all kinds. Play it again, Sam!

The writer is a noted

career expert