Punjabi antenna
Mid-monsoon madness
Randeep Wadehra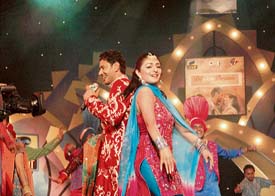 Harbhajan Mann at the release of Dil Apna Punjabi
Harbhajan Mann and his two heroines, along with Manmohan Singh, Dara Singh and other members of the cast, with assorted singers and dancers in tow, did their best to ignite a spark of curiosity regarding the flick Dil Apna Punjabi among cine-buffs at Kalagram. Thereíre no hard Ďní fast rules for releasing a film. One can be low key, give ads in media, resort to previews or organise a song Ďní dance spectacle complete with audio-visual exposition. If itís a Punjabi affair then razzmatazz overkill is expected. So, one wasnít surprised at the shosha to mark DAPís release. The stage setting and lights were better than on previous occasions, but the timing of the event was inopportune.
In the hot humid conditions, it was sheer mid-monsoon madness to have artistes gyrate to loud music to drum up enthusiastic response from the audience. Surely, if the Tips (the company thatís bankrolling the film) CEO Turrani wasnít familiar with the local conditions, at least the filmís director, Manmohan Singh, or other Punjabis couldíve cautioned against holding the show this season.
Worse, Gurpreet Ghuggi, a great stand-up comedian otherwise, fell flat as an anchor. His humour evoked tepid response. And, then his glaring gaffes like repeatedly referring to Zee Punjabi by its earlier name Alpha Punjabi; his egotistic incessant reminders to the audience of the characters played by him in different movies, including DAP, and unforgivably, getting into altercations with hecklers. One expects a seasoned performer to keep his cool under provocation, especially when the show is being beamed live to over 100 countries. The cameraman didnít help the matter by focusing on youngsters even as Ghuggi, Turrani and Dara were in mid-sentence while speaking on-stage. Sensing the camera on them, the youngsters would roar high-spiritedly, thus putting off the speakers. And, strangely, the audio-visual exhibit was done at the end of the programme when most of the audience was getting tired and sleepy.
With the Mumbai-based producer and director, and seasoned media event organisers like Zee Punjabi, backing the movie, one expected better marketing strategy from its makers. Actually, song íní dance extravaganzas are pass`E9. The organisers mustíve realised that direct contact with immature audience isnít a very good idea. Itís always advisable to invite select audience for a preview and let their opinion be aired through the media to mould common viewersí response. If we are really serious about triggering renaissance in Punjabi cinema weíll have to be classy and more imaginative in the entire approach to packaging and selling cine products.
Postscript: Saree has made a great comeback on the Punjabi small screen. It was pleasant to see the Gurdaspur girls clad in this timeless raiment while contesting for Miss Zee Punjabi 2006.