My movie is not romantic, but realistic
A wanderer by nature and a filmmaker by choice, Gaurav Jani is among the new breed of talented directors today. His documentary Riding Solo to the Top of the World won the National Critics Jury Award and Golden Conch for Best Documentary Film / Video at the Mumbai International Film Festival. Jani talks to Ritusmita Biswas about his film, his passion for bikes and wanderlust.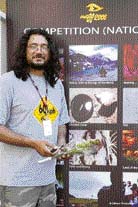 Gaurav Jani
IT is a movie with a difference. It captures the unique experience of a solitary traveller who rides his motor cycle all the way from Mumbai to one of the remotest places in the world, the Changthang plateau in Ladakh, bordering China. The film catches Janiís amazing journey, trekking across Changthang, which is situated at an average altitude of 15,000 feet with temperature dipping to minus 40 degree Celsius in winter.
Excerpts from an interview:
What made you venture into filmmaking?
Ever since I can remember, I have wanted to tell stories and films seemed to be the best medium to do so. I began my career by choreographing fashion shows. From my college days I was associated with theatre and when I moved to Mumbai I started as an assistant director for teleserials; one of them was the popular show Sunday Ki Sunday. The first movie that I made was with Shivam Nayar; it was a documentary about a psychopathic killer. Unfortunately, it never saw the light of the day. I then moved on to work with Ram Gopal Verma as his chief assistant director in Jungle. Later I opted out of the commercial movie arena to make my kind of movies.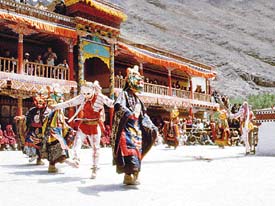 Janiís award-winning movie captures his journey from Mumbai to Ladakh
Why did you opt out of the commercial sector? Isnít it a more lucrative field?
Filmmaking is my passion and I wanted to make movies with a difference. Commercial movies did not allow me to have that kind of job satisfaction. So I opted for a field where I could experiment and enjoy total control.
Any regrets for having forsaken your chances to work with Bollywoodís big shots?
I am absolutely happy with my decision and have no regrets whatsoever. Yes, while I was making movies with Ram Gopal Verma, I had a good time and learnt a lot. However, that was never my cup of tea as I prefer to make movies that are out of the box yet interesting.
So whatís different about your travelogue?
Firstly, it is not a romantic but a realistic movie. The film is about a very difficult trek to the topmost point of the world inhabited by humans. Nothing was pre-planned, there was no script and I filmed as I went on my journey. The movie stands apart from others in the crowd as it captures not only the good times in the journey but also the tough times in the entire adventure.
Tell us something more about the journey. The good times and the bad ones.
I began the journey in June 2004, and the entire journey took 70 days. The journey to the Changthang plateau was an experience by itself. I met Changpas, the nomads who live in one of the highest altitudes in the world. Staying with them for 40 days helped me to see life in a new perspective and I was inspired by their resilience and charmed by their simple lives. For a person born and bred in the city, it was almost a spiritual revelation. Yes, there were low points like the time when I was without water for two days, when I was not well and times when I was terribly lonely and pined to talk to my friends.
What made you start 60kph, the biking community?
I love to travel and for me itís all about losing oneís identity and becoming part of the land and the people. That is something that can never be achieved in a closed and confined vehicle as a car. So bikes are the best bet. Bikes allow you much more freedom and you can interact with ease with the locals. I am not alone in my belief. There are other people across the world who share the same philosophy.
While forming 60kph, I wanted to create a network of dedicated riders all over India who would help each other, share routes and maintenance tips. All of us are like-minded bikers who love seeing different places, especially remote places and who donít think it is a crazy idea to do a 50-day trip.
Where did you get the funds to make your movie?
When I came back to the city, I had 40 hours of raw footage and no producer for the film. It was done entirely by my resources but I had a very good group of friends who pitched in and helped me to complete my project.
Is there sufficient incentive in the country for your kind of movie-making?
Not at all. But someone has to begin making alternative movies and in due time it will create a market for itself.
What is your next project?
My next project is a film named One Crazy Ride and it captures my journey to Arunachal Pradesh. I have the raw footage but I am waiting to garner resources or find a producer for my movie. ó TWF