Selling happiness
Lamat R. Hasan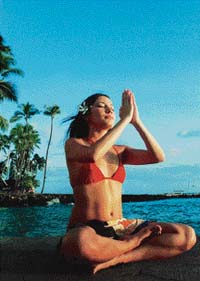 The 'happiness industry' has been targeting the youth
Not very long ago finding true happiness was a very personal journey. But like everything else happiness is up for sale and the "happiness industry" is increasingly targeting youth.
The self-help gurus and the New Age goddesses—who rule the multimillion rupee happiness industry—are enticing gullible youngsters with their blueprints of happiness. These youngsters, who are not even sure what happiness means to them, are made to believe that happiness can be bought off the shelf—just like a pair of shoes or a burger.
From tailor-made programmes like free happy classes to self-help books to special accessories that can help boost careers and love lives — everything is up for sale.
The happiness industry's serotonin — the brain chemical associated with activating happiness — has surely touched a new high. But is anyone getting happier? Stressed out youngsters are trying out everything under the happiness sun to beat their blues.
Rakhi Sen (name changed), a journalist, has been attending meditation camps to keep happy. "I like to attend these camps. They help me unwind. I also get to reflect on my life. They help me recharge and then I get back to work with more vigour. It's unfortunate I can't attend these camps more often."
A 30-something housewife buys camphor to balance the negative energies in her bedroom. "It is a bad idea to put a TV in the bedroom, it emanates negative energies. Evaporating camphor helps drive out the negative energies," says Medha Sarkar.
Sarkar, who has been able to sleep better ever since she started performing these rituals, says mopping the floor with rock salt also helps.
Cheshta Kalra, an engineering student who was completely stressed out meeting project deadlines, enrolled for an Art of Living class. "I learnt Sudarshan Kriya at the Art of Living classes, which helped me destress. The course completely changed me. It taught me to find happiness in the little things of life," Kalra says.
Cyber addicts are enrolling for online happiness programmes. "I have enrolled for classes at the happyguy.com portal. The classes help me keep happy," says Suroor, who is looking for a job.
Neshat Kaiser, a sociologist at Jamia Millia Islamia university, said: "Years ago our ascetics took happiness to the West. Today the West has repackaged happiness for us and is selling it to youngsters. Happiness is available at McDonald's or the nearest spa. It can be bought for a price like a pair of shoes."
A shopkeeper who retails books on spirituality in Khan Market in Delhi says a lot of young kids are picking up these books. "I had a customer who would pick up all the titles. He would often tell me to get more books for him. He has now moved to America for further studies," said the shop owner, who did not want to be named.
Housed in another upmarket store in Khan Market are hundreds of turtles, crabs and laughing Buddhas. They may not mean anything to the uninitiated, but these crabs and turtles are said to have changed many a life.
In the same shop on display are multi-cultured positive energy stones.
Green stones enhance knowledge, blue stones enhance energy levels and black stones help ward off the evil eye," the salesperson explains.
There are chimes which bring harmony and good luck; Pagua mirrors that keep negative energies at bay; wealth balls that help multiply money; horses that enhance careers; eagles that help grasp opportunities; pyramids that rectify structural defects; beaded bracelets that bring good luck and scented candles that uplift the mood.
For those who are plagued with ailments, there are healing pencils and rods and variously shaped crystals.
The catch—as Sarkar points out—is Feng Shui or any other New Age techniques will work only if one believes in it. Youth do and they think they are getting happier.
—IANS