I READ Maharajas by Jarmani Dass as I would have read Maharshi Vatsayana's famous treatise on the different ways of expressing love, in a closed room away from the attention of my father. At the end of it, it was not certain whether it was all fact or fiction for it described in detail the sexual adventures of the kings, which were beyond the imagination of a plebeian teenager.
The predicament is much the same about Passion India which Javier Moro describes as a novel, though he avers on the jacket that he did not invent anything and chose the form of the novel "to better render the flavour of a time". The list of 47 books in the bibliography and 30 photographs in the middle seek to lend authenticity to his work while a disclaimer protects him from all charges, including even defamation.
Moro is a Spanish writer who became famous in India when he collaborated with Dominique Lapierre to write It Was Five Past Midnight in Bhopal. He had better reason to author this book, which is about Anita Delgado, a Spanish flamenco dancer from Andalusia whose breathtaking beauty so captivated Maharaja Jagatjit Singh of Kapurthala that at first sight he chose her as his fifth wife.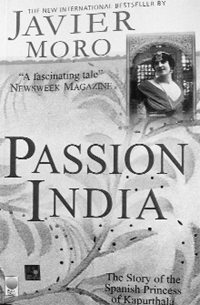 Anita who worked as a curtain-raiser in Madrid to keep the home and hearth burning and who, in a fluster, drank the hot water in the finger bowl the first time the Maharaja entertained her in the costliest restaurant at Madrid found herself putting up in the plush Maharaja suite at the Taj in Bombay.
Her life as a princess had begun. For the Maharaja who had an excellent command of several Indian and European languages and who enjoyed shopping in the most expensive and exclusive shops and boutiques, Anita, re-christened Prem Kaur, was an acquisition to be flaunted.
He had seen to it that she was given quick lessons in etiquette, fashion, continental cuisine and stately duties before she arrived in Kapurthala with his baby in her womb. Anita turned so exquisite that she dazzled everyone she came across, the richest of them the Nizam of Hyderabad, who had a harem of several hundred beautiful women, virtually falling at her feet.
But with each passing year, life began to be lonelier and lonelier for Anita except when she was in the company of Ajit, her only son. Barring Rani Kanari, all the Maharaja's wives saw her as an imposter and social climber and they schemed all the time to smoke her out of L'Elysee, the magnificent palace, modelled after the Versailles, which was her new home.
Nothing mattered to her as long as her place was intact in the Maharaja's heart. Life became miserable when rumours reached her that he was often seen in the company of a white woman. In any case, the ardour in their love had disappeared. When Bibi, as she called Rajkumari Amrit Kaur, the Maharaja's niece, who stood by her through thick and thin, immersed herself in Congress politics, she began to spend time with Kamal, her stepson from Rani Kanari, who was of her age.
And the inevitable happened — the Maharaja found them out and the world came to know about what a Parisian journal described as an "Indo-Spanish Phaedra' alluding to the famous Greek tragedy in which the king's wife falls in love with one of his sons".
Jagatjit Singh would have summarily packed her off to Malaga but for the intervention of his friend Mohammed Ali Jinnah, who was staying at the same hotel where the lovers were caught almost red-handed.
The Maharaja insisted that she abort her love child before she left India for good and, in return, he assured her a substantial yearly pension of 15,00 pounds for annulling the marriage.
Even before Anita left Kapurthala, he had brought a French girl, Arlette Serry, as his companion and as a final insult to her. When after sucking him dry, Arlette joined her secret lover, he married again, this time to a Czech theatre actress, who preferred to jump down from the top of Qutab Minar holding tightly to her chest her two poodles, rather than spend the rest of her life with a doddering old man.
For all his crazy idiosyncrasies, insatiable sexual appetite, unacceptable dalliances and wayward ways, Maharaja Jagatjit Singh is the real hero of this book. A man of letters and of word, he was magnanimity personified.
When he built a large mosque, modelled after the Qutbia Mosque in Marakesh, Morocco, at Kapurthala, the Viceroy questioned his extravagance. For his temerity, the Viceroy got a terse reply from the Maharaja: "Your Excellency may be unaware that 60 per cent of my population comprises of my loyal Muslim subjects. It is only in the fitness of things that the best place of worship in my state be constructed for them".
How many kings could have written such a letter? He not only built a mini Paris in Kapurthala, but also gave the city a modern sewage and water system and telephones way back in 1901. He was a pioneer in promoting compulsory primary education for both boys and girls.
In Moro's novel, there is only one occasion when the King fails to live up to expectations, that is when Anita wants him to have her maidservant Dalima's in-laws hauled up for torturing and eventually trying to kill her for dowry.
Today Jagatjit Singh is not remembered as the one who reigned longer than any other maharaja but as the one who ruled benignly over what was just a principality and brought it the kind of development the rest of India had only heard of.
Javier Moro is an excellent storyteller in whose hands Anita Delgado and Jagatjit Singh are not just fairy tale characters but two human beings with their strengths and weaknesses and who should not be judged by modern standards of statecraft and moral rectitude. The book is worth the price.