Bard's silent debt
Min Wild
Shakespeare & Co Stanley Wells. Penguin, UK. Pages 304. `£ 22.50.
It may sound mad, but The Lord Admiral's Men in 1598, in their home at the Rose Theatre, made full inventories of their properties and costumes. Though these remarkable documents are reproduced at the close of Stanley Wells's book, they offer a good starting-place for appreciating the sheer, outrageous, world-consuming zest of the theatre in Shakespeare's day. Limits were few. The poet, as Sir Philip Sidney said "goeth hand in hand with nature, not enclosed within the narrow warrant of her gifts, but freely ranging only within the zodiac of his own wit"; he delivers a "golden" world. Hamlet's economic gesture towards his own "distract'd globe" encompassed head, theatre, world and all. Let us for all love remember, though, as 21st century shelves fill with yet more books detailing Shakespeare the man, his genius, and his "lost years", that in his time, his head was not the only one busy transforming worlds. Stanley Wells is a significant figure in the contemporary understanding of Shakespeare and his works, but his years of invaluable scholarship, his editing of Shakespeare's plays, his collaborative anthologies and numerous works of synthesis and explanation of the man and his legacy have not led to tunnel vision. Here he turns his attention to "and Co", and "attempts to place Shakespeare in relation to the actors and other writers, mainly playwrights, of his time in an accessible and where possible entertaining manner".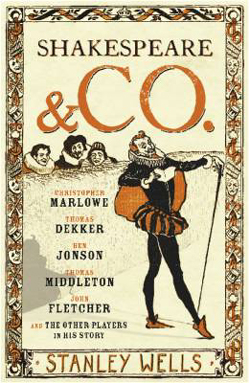 The "where possible" is rather charming, and indicates correctly that there is something of a holiday mood about all this. While responsibility to his subject never wavers, he allows himself licence, quoting from the (monstrously unjust) portrayal of the boy Webster torturing mice in Shakespeare in Love, and exhibiting some relishable dry wit. Explaining the theoretical implications of Ben Jonson's preamble to Every Man Out of His Humour, he can't resist suggesting that latecomers might nevertheless "be relieved if they had known what they had missed". To insist on Shakespeare as one among others is neither novel, nor even very exciting; after all, many undergraduate courses on Elizabethan and Jacobean drama are designed to do just this. Goethe in 1824 compared Shakespeare with Mont Blanc: if the mountain was on a flat plain "we should find no words to express our wonder"—surrounded by other peaks his magnitude becomes more explicable.
Yet Wells is splendidly placed to make a comprehensive and colourful job of understanding in new ways Shakespeare's debt to his peers. This is illuminating, well-planned and suggestive work, not only for those readers who have little acquaintance with the subject, but also for those already familiar with it.
It was all happening at once. Writers are filching ideas from each other; if you can write, you're needed, even if you only went to grammar school; there are crazes, fashions, setbacks and advances. Marlowe dresses the speech of conquerors in new clothes called blank verse, and language itself becomes fluid, sinuous, inventive, outrageous, designed to arrest in what is itself an aural, rather than visual, culture. Thomas Dekker exults in the power: the poet "can draw with adamantine pen even creatures / Forged out of th' hammer on tiptoe to reach up`85 English itself is arriving, and it's the theatre which is making this happen.
Thomas Heywood knew: "Our English tongue, which hath been the most harsh, uneven and broken language of the world, is now, by this secondary means of playing, continually refined, so that it is grown to a most perfect and composed language." In Hamlet alone, there are 170 usages of words or phrases new to English.
Effects slip over into prose, and the astounding Thomas Nashe does things to words from which they've never quite recovered. Wells laments that Nashe never found a literary form that could contain his talents, but let's be pleased about this: the rigid categories into which writing is nowadays confined were blessedly absent. Wells's experience and wisdom is invaluable in helping cut through the tangles of doubtful attributions and hazy collaborations. How much of The Two Noble Kinsmen did Shakespeare write, and with whom?
Shakespeare's debts to Marlowe are well acknowledged, but what does Macbeth owe to Middleton's Yorkshire Tragedy? Other writers were sometimes better: in Henry VIII, the introversion of late Shakespearean verse is contrasted unfavourably with the "orderliness" of Fletcher.
The idiosyncrasies of individual actors—real boys and men—help in Shakespeare's construction of character. Most importantly, Wells helps us understand the damage that Shakespeare's status has done his contemporaries. At Shakespeare's shrine, the sweet cruelties and comic asperities of this drama are often neglected: all of Marlowe, and Nashe, with his "brightness falls from the air", the self-referential glories of Beaumont's Knight of the Burning Pestle, and the forensic, bitter Webster. Richard Eyre has spoken recently about Shakespeare: his drama helps us "uncover the spiritual". Indeed, Eyre suggested, he is a "secular saint", but, as Wells shows in this well-judged tour of this human, smelly, collaborative—and sometimes desperate—lost world, the truth is more interesting than that.
—by arrangement with
The Independent