Wine Makers
There are many win(e)some folks in the city who are well-versed in the art of making wine, finds out Parbina Rashid
Think wine and images that flashes into mind are of well-dressed sophisticated crowd holding long-stem glasses, filled with sparkling liquids. Go a step beyond, think about wine making, and your mind runs into acres of land growing grapes in some exotic chateau in France (it comes easy if you have had an overdose of Mills and Boons romances during those growing up years) or those dark, mysterious cellars packed with bottles of vintage wines in Italy.

GRAPEVINE: The Marwahas sit pretty with their wine collection in their Sector 7 home.

Brush with Transparency
Bheem Malhotra has done the city proud by making a mark on the national art scene with his evocative water colours, says Nirupama Dutt
As a schoolboy in Gohana, near Sonepat in Haryana, young Bheem Malhotra would pick up a pencil and sketch his Alsiatian dog as he took a nap on his floor cushion. Other times he would extend his gift of sketching to do portraits of his family or friends. "It was only when I completed school did I learn that there was actually an institution in Chandigarh that taught art," says the artist.


FRAMED: Bheem Malhotra caught amidst the enchanting world of his water colours. — Photo by Vinay Malik







Art of the matter
We at Kala Maitri, a new association of professionals from the field of art, are pained to read a write-up about us and our recent activities by Nirupana Dutt in the issued to Friday, August 18, 2006. At the outset, the article was in bad taste and smacked of vendetta by the writer. We fail to understand how someone who was not even present at the events had the vision to see everything so clearly. Or is it that the writer was seeing through someone else's eyes? Our is an association comprising alumni from the prestigious Government College of Art in its infancy.

KALA MAITRI: Painting in unison. — Photo by Vinay Malik
Dance of the Russians
Saurabh Malik
Chandigarh is gracefully carrying familiar friendship with Russia a step forward. Not just on New Year Eve and launch parties, the city is shaking a leg in sync with the rhythm movements of Russian dancers during weekend bashes, gorgeously and glamorously. If you are having any doubts about city youngsters tripping the light fantastic in complete harmony with their warm friends from across the border, just drive down to one of the discotheques in the city for twirling all around the dance floor during weekend bashes.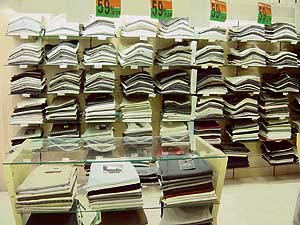 FUN WITH FASHION
Sale time is sale time
Anandita Gupta
BANG— the hawker drops that eagerly awaited bundle of rustling newspapers at your doorstep. As you rush and get hold of the intellectual fodder that accompanies your morning cuppa, your eyeballs get rolling. For, what's all over the paper space is so predictable (its been there in the papers since long now), and yet, doesn't fail to excite you. Vying for space with Gaganjit Barnala on one day, and the War Memorial on the other, are these huge adds shouting—SALE SALE…. One wonders why these brand bigwigs have to use the word sale more than once. Perhaps to draw attention, but isen't the big adds enough to make our eyeballs pop out? Maybe, they don't think so.
MATKA CHOWK
Strike Tale
Sreedhara Bhasin
Friday afternoon I drove out to the streets to pick up my daughter from school. The minute I reached the first major chowk, I sensed a new dimension to the traffic flow. The cars seemed to have multiplied astronomically – overnight. The usual impatience has been overtaken by an uncanny ferocity and belligerence.
RADIO FORMATS -II
Tuning-in with Hardeep S. Chandpuri
All of you will remember that last week, I had talked about the all-important radio formats and their role in shaping up the feel and the style of any radio station. I discussed the very popular AC, AOR, Classic and CHR formats which are more or less the most acceptable and popular.
WRITE TO RENEE
Life is about being happy
Dear Renee, I am a young man who has been a PR executive for many years. I just want to give up this career as it really does not suit my temperament. My friends think I am really crazy but I feel stifled as I always wanted to be a fashion designer. I feel my creativity is not being exploited.