AUDIOSCAN
Sublime notes
Soul Mantra
(Times Music)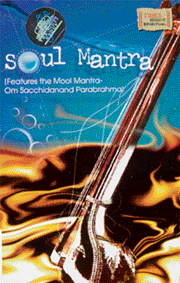 Peace is considered an essential prerequisite for proper functioning of one's heart, mind and the soul. This album claims to do the needful for you through mantra recitation.
It pays obeisance to the supreme force of the universe. As the timeless mantra from the Rig Veda, "Om Sachidanand Para Brahma" echoes in the vast expanse of one's mind, it sets in motion subtle changes in one's psyche.
It works at a micro as well as a macro level, with reverberations going to the entire cosmos.
The engaging voices of Nitin Joshi, Vibhavari Apte-Joshi and Ajit Parab are supported by contemporary orchestration based on strong guitars and synthesiser and modern grooves.
What matters is that the album is a welcome variation from the clutter of cinematic music that blares out from every TV channel and speaker these days.
Vibes-3
(Times Music)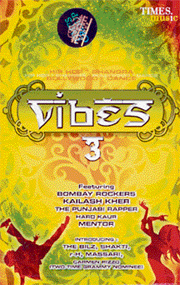 Here are hip-hop, bhangra, Bollywood and dance music all in one album. The eclectic mix features Bombay Rockers, Kailash Kher, The Punjabi Rapper, Hard Kaur, Mentor and many more. It also introduces The Bilz, Shakti, r-H, Massari and two-time Grammy nominee Carmen Rizzo.
Bombay Rockers have two songs here, Wild Rose and Ari Ari. The latter, sung by Navtej (Naf) for the Scandinavian producer team of WCA (Thoman and Janus) was a big hit in Denmark. Theirs is a hybrid of R&B, hip-hop and bhangra-infused vocals.
Shakti's single Do The Thang Thang has already appeared on numerous compilations such as Bombay Boogie Nights, R&B Hip-Hop Party and the Billboard 2004 Sampler (New York).
The Bilz duo, whose Punjabi Whisper Pt 2 is featured here, consists of DJ Vicious and Master-D. Master-D weds Indian classical music with pop and urban music, for what he likes to refer as "booty to bhajan". Their sound is created in Montreal (Canada) and is now ready to cross over with their artistes Kashif, So-D, Jasvir Dhanjal and Mixsingh.
The Punjabi rapper is Raja, who immigrated to the West over 10 years ago. Instead of the nice cards and palm trees that he had dreamt about, he found himself living amongst murderers and drug dealers.
This pioneer of desi hip-hop moulded his experiences into raw, hard-edged raps depicting not just California's street life, but a life many South Asians lead in America. His lyrics are in Punjabi while many of the hooks are in English.
Kateyes was born to South Asian parents and now resides in Toronto. Here he presents OPP (Official Project Puerto Rico).
Hard Kaur, whom we have heard in Chandigarh, is the UK's first Asian female rap artist. She mixes aggression, realness and femininity to make a style statement. Here she partners Mentor, born in Kenya and now based in the UK, to sing Party in Bombay.
Overall, it is an enjoyable bouquet of songs. — ASC