The rise and rise of Aamir
He sets his own rules. He is a class unto himself. He is first an actor, then a star. Nothing but the best would do for him even if it means a yearlong wait for the right script to come his way.
Saibal Chatterjee on Aamir Khan, the rare megastar whose name assures both box office hits as well as intense performances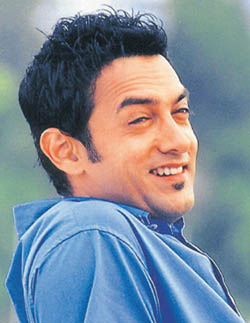 The Khan triumvirate — Shahrukh, Aamir and Salman — has ruled the Bollywood roost for well over a decade now. Each has his strengths, and each has a special niche in the market. Shahrukh is the box office badshah, Aamir is the embodiment of perfection and Salman is the frontbencher's delight. But who among the trio is the greatest of them all?
On current evidence, Aamir Khan seems to have pulled ahead, just a tad, of Shahrukh Khan. Shahrukh, after last year's commercial dud, Paheli, is back with Karan Johar's Kabhi Alvida Na Kehna. But then, it doesn't seem likely that KANK will have the kind of impact that the Aamir-starrer, Rang De Basanti, had on the movie-going masses earlier this year.
A hat-trick of bumper openings in a span of less than a year — Mangal Pandey, Rang De Basanti and Fanaa — has catapulted Aamir Khan's career into the stratosphere. More important, he has acquired for himself the enviable tag of a high-quality actor who never settles for anything less than the best in terms of narrative material.
No wonder the star-actor's next film is going to see him teaming up with the equally fastidious Mani Ratnam for the first-time ever. The film, Lajjo, based on an Urdu story by the late Ismat Chughtai, is scheduled to roll in January 2007. Rumours doing the rounds suggest that producer Bobby Bedi has offered to pay Aamir a whopping Rs 10 crore for the film. Even if that figure is somewhat inflated, there obviously can be no denying that Aamir's stock is rising.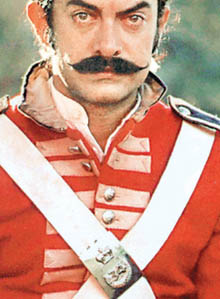 The past six months have been particularly productive for Aamir Khan. The last time he had two resounding hits in the same calendar year was way back in 2001, when Lagaan and Dil Chahta Hai took the nation — and several other parts of the world — by storm.
Five years on, he has repeated the feat in a dramatic fashion and provided proof yet again of his unparalleled dependability both in terms of quality and commercial clout. Aamir is a rare Bollywood megastar: his worth is measured as much by box office grosses as by the sheer merit of his performances.
Naturally, reams have been expended over the years in trying to fathom the secret of Aamir's special status in Bollywood. What is it that sets him apart from other members of the small tribe of Bollywood megastars?
Every film that he figures in — he has been seen in only five releases in the past five years, certainly not the norm for Bollywood stars in demand — is accompanied by great hype and expectations and usually not without justification. But that is only half the story.
Aamir the actor has never allowed superstardom to overshadow the quality of his craft even as he is acutely aware of the need to keep his fans on his side no matter what kind of film he chooses to do. He picks his films and roles with utmost care. He is acutely conscious of his mass appeal all right, but he never lets that get in the way of his role and the film he commits himself to. He is an actor first, a star later.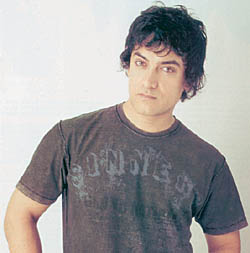 In Rakeysh Mehra's smash hit, Aamir fits into the ensemble cast with effortless ease, subduing his superstar status and letting the screenplay determine how much footage and importance his character in the film, a graduate who refuses to leave the safe confines of the college campus several years after he has passed out, would get. In the bargain, the film gains as much as he does as an actor.
Aamir clearly is no longer in the business of numbers — he does not need to be. He acts not simply because he wants to earn big bucks but also because of an ingrained urge to do work that is of permanent value.
That is Aamir for you — invariably understated, completely wedded to his profession and absolutely sure of exactly what he is out to achieve as an actor and a movie star. Aamir is big, but he is never bigger than his films.
Shahrukh is big too, but invariably he tends to be bigger than his films.
Aamir ensures that every film of his goes on to become as big as it can be. As Rakeysh Mehra, director of Rang De Basanti, says: "Rang De Basanti started out as a Rs 3-crore film. It became a Rs 30-crore film only because Aamir agreed to come on board."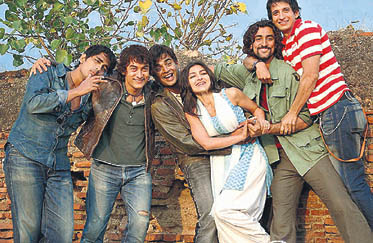 Actor of substance: Aamir plays an aimless youth in Rang De...
But that wasn't the only way in which Aamir Khan contributed to the final cut of Rang De Basanti. "Aamir knows his job. It's a huge help for a director when he has an actor who constantly adds value to the character he plays. He is an involved actor always clued in and keen to improve the film and the character," says Mehra.
Forget all those patchy films that Aamir lent his name and talent to in the first flush of success brought on by his debut vehicle, Qayamat Se Qayamat Tak. But since Aamir Khan took charge of his career in the mid-1990s and steered its course towards sustained greatness, he has rarely, if ever, made a false, unpremeditated move.
Indeed, Aamir has completely redefined the parameters of Bollywood stardom by managing to yank the focus away from the actor and the man to the character and the film. In an industry where a big-budget commercial film sells on the name of its male star, he is second to none when it comes to box office draw.
However, Aamir derives his uniqueness from the fact that no other actor in the business quite blends box office clout with the innate ability to subjugate the star to the needs of the script. In that sense, among the megastars that Bollywood currently boasts of, he comes closest to the concept of a star-actor, as it exists in the movie capital of the world, Hollywood.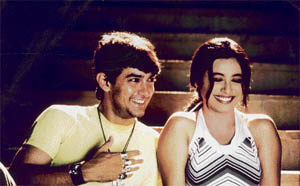 STAR HITS: Aamir with Kajol in Fanaa and (bottom) with Rani Mukherjee in Ghulam
Thanks to the global recognition that Lagaan fetched him, Aamir is now a name on the world stage as well. Rope him into a project and funding falls into place almost immediately. His achievements are already the stuff of legends, but he still has many frontiers to conquer.
Yes, every time an Aamir Khan film makes it to the theatres, it does come with the fact that he is the star of the show brightly emblazoned across the marquee. But once the film is released from its spools, Aamir the star recedes to the background, quietly and without any fuss, and the character that he essays takes over.
Could any other contemporary actor have pulled off the character of Bhuvan in Lagaan quite as convincingly as he did, braving the desert sun for four long months in order to bring to life a project that few in Bollywood had the courage or
foresight to believe in?
Could anyone but Aamir have devoted two and a half years of his life and career to a single film, Mangal Pandey, simply because he had faith in its relevance?
Would any megastar have allowed a bunch of lesser-known actors to hog screen time and the limelight like he did in Rang De Basanti?
No wonder most of the screen characters that Aamir has brought to life in the past decade have imprinted themselves on the pages of Hindi movie history forever.
Consider the sheer range that Aamir has achieved over the years. He has played characters from the wrong side of the tracks like the ones that he played in Ram Gopal Verma's Rangeela and Vikram Bhatt's Ghulam.
He was a pushy, wily, suave journo, Raghu Jaitley, pursuing the story of a runaway girl in the Mahesh Bhatt romantic comedy Dil Hai Ki Maanta Nahin.
He essayed the role of a clean-cut youth hero in Mansoor Khan's musical, Jo Jeeta Wohi Sikandar; a middle India cabbie who falls in love with an upper middle class girl in Dharmesh Darshan's Raja Hindustani; an upright cop wedded to his uniform and duty in John Matthew Mathan's Sarfarosh; a martyr from the pages of history in Ketan Mehta's Mangal Pandey; a Delhi University grad drifting towards nothingness in Rang De Basanti; and a tour guide with a dark secret embedded in his fractured heart in Kunal Kohli's Fanaa.
No matter what the role, he invariably manages to add a special dimension to the character without ever losing his appeal as a box office star.
The balance that Aamir strikes between stardom and substance is a rare quality indeed. It is this more than anything else that makes Aamir Khan what he is: a Bollywood icon without a peer.
Not surprisingly, Aamir is everywhere these days. Since the run-up to the release of Ketan Mehta's period film Mangal Pandey last year, he hasn't been out of news for a single week. His films have kept his career on the boil and his views on matters political have ensured him sustained play in the mainstream media.
One group of rightwing politicians does not want him to enter Gujarat, another bunch of people exhort him to stop endorsing Coca Cola. Aamir seems to be gradually assuming the dimensions of a public figure whose influence far outstrips that of mere movie stars.
It is hardly surprising that the television channels can't seem to get enough of him these days. Having edged Shahrukh and Salman out of the spotlight a bit, he has emerged as the reigning Khan of Bollywood. So while Shahrukh gets invited to television studios to hold forth on the trivialities of marital discord, Aamir is usually called upon to drive discourses of far larger socio-political import. And that gap in perception probably defines the difference between the two super Khans more than anything else ever will.