Colours of courage
Aruti Nayar
For Jagadhri girl Reema Bansal, Strokes III, a five-day solo exhibition at the All-India Fine Arts and Crafts Society, Delhi (beginning today), is yet another milestone in a journey marked by grit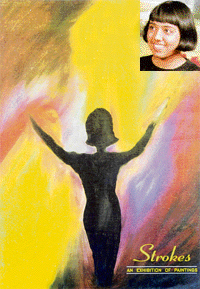 Reema Bansal always believed in striving for the sky right from the time she started painting from the age of three. Neuropathy—a progressive weakening of the limbs—did not dent her zest for life. Be it shrugging off attempts to discuss her symptoms or dwell on how they thwart her, she says it was the support of her mother that fuelled her never-say-die spirit. No wonder this 20-year-old is having her fourth exhibition. Beginning at Jagadhri, she exhibited her work at Solan and Chandigarh as well.
Determined to grow beyond the confines of her home town, she wanted to spread her wings. Thus, the decision to go to Delhi for psychology honours at Lady Sri Ram College.
Was it not difficult to be on her own? To this she replies, "Initially I had problems trying to balance the brush but I guess when you really want to do something, you find ways and means of doing it. I paint to find a comfortable existence for myself, to express and touch people in a positive manner. Of course, I never realised this earlier. I would just paint falling in love with colours just to be by myself but with time, I realised that any sort of art is actually a therapy by itself. Now I know one thing for sure – painting is my lifeline." Her medium is mostly oil on canvas and the themes are mostly abstract or situational. What she particularly enjoys is catching a moment. It can be the way a gust of wind makes the curtains fly and scatters leaves.
Aptly, 'Miles To Go' is the theme painting of Reema's current exhibition. "It is a journey in which the focus is more on enjoying the way rather than reaching the destination." What about her milestones? She adds, "I would consider all my holidays to hill stations and class trips as milestones (that's when you are most relaxed, and at times get to see completely new sides of yourself), my first exhibition in Chandigarh (2002), my coming to Delhi for higher studies."
At times she appears wise beyond her years and talks almost philosophically, especially when she says, "Each day is a milestone in itself we learn each day grow each day but forget to acknowledge it to ourselves."
For the avid reader, it is Ruskin Bond who is a favourite because she is in tune with his love for and appreciation of nature. She devours Sherlock Holmes and John Grisham and finds Theories of Love and Escape from Freedom by Eric Fromm stimulating. The exuberant girl in her surfaces when she talks of her love for musicals and comedies and says, "Why rationalise and analyse everything?" It was this need to experience lots more that spurred her on to take music and dance classes.
Coming to her disability, Reema says, "I hardly feel affected by it. Basically it's nothing but being able to procure resources and solutions. Fortunately, I have had both till now." She believes, each one might be 'disabled' in some way. One might be too short to play basketball while another might be too fat to dance. With a steely tone, she says, "Don't make disability a focus. I don't think I need to use it to my advantage."
When Reema read Dr Walter F. Stromer's famous address at the Indiana School for the Blind in a book, she felt, "As if all my thoughts had been put in words. The theme was that humans have great capacities to adapt we are all different so success, failure, sadness and happiness are just relative terms."
Despite it being her lifeline, Reema never opted for art as a career, because she wanted "a balance in life both objectivity and subjectivity."
She, however, did a distance course in art appreciation from the Oxford University to be able to combine her love for art and writing.