Stamped Impressions
Engineered to excel
Reeta Sharma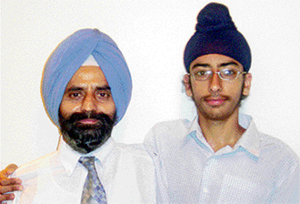 Gurprit Hansra with son Harkirat
What is an 'intelligent vehicle'? I learnt all about this term from Gurprit Hansra, who is at present settled in Sacramento, USA. He is Chief of Intelligent Vehicles Initiative with American Government's Transportation Department.
Hansra had immigrated to the US in 1985 after completing Bachelor's in electronics engineering from Guru Nanak Engineering College, Ludhiana. In the US, he first acquired a Master's degree and by 1991 joined the Transportation Department. That was the beginning of a brilliant career. Within a decade on the strength of his hard work, he reached the senior most post in the department.
Along with his job, Hansra continued to study to acquire different types of licences. He succeeded in getting a professional licence in electrical engineering, traffic engineering and traffic operations engineering. Today, he is the most qualified engineer in the department.
Showing me one of the futuristic cars of the US, Hansra explained: "Cars today have immense computing power. For instance, the new cars deactivate the air bag if the person sitting on the seat is short of the weight required for the opening of the bag in an emergency. Similarly all four wheels have different power brakes and the brake will be applied only on the wheel affected. In future, cars will talk to the driver with their computing powers and warn in advance about any lurking danger in the vehicle.
"At present I am working on a project with which we will be able to provide information to the commuters about any danger zones on their way. For instance, if a car jumps a red light, your car will be warned in advance to stop. This means all cars will stop, preventing any collision. Similarly all cars will have radar in the front to ensure automatic braking in case the cars come to close to one another."
This outstanding engineer is also a voracious reader and has a vast collection of books, some of which are rare. In fact, his personal library is a treat to visit. Many an article by him has been carried in prestigious publications. A devout Sikh, he says: "Of late managements in a large number of gurdwaras in the US have removed the portraits of the Gurus, saying that it is against Sikhism to worship portraits or idols. They also argue that these portraits are not authentic and that the Gurus never believed in getting themselves sketched. This controversy prompted me to reach the truth. I have dug up records, researched and reached a conclusion that there are portraits of some of our Gurus available even today."
Hansra elaborates, "It is a historical fact that Guru Teg Bahadur went to east India, including Bihar, Bengal and Assam in 1660s. He also went to Dhaka and stayed with Bhai Balaki Dass. The Guru inspired the Sikhs there to build a dharamshala to hold regular congregations. When the Guru decided to leave Dhaka, the mother of Bhai Balaki Dass started crying and said that it gave her great pleasure to have his darshan every day. She then asked him how could she have his darshan when he left. The Guru asked a painter to make his portrait. The royal painter, Ahsan, made a painting of the body of the Guru Sahib but when he reached his face (in the picture), he could not properly draw the glowing face of the Guru. On seeing this, the Guru took the brush in his own hand and drew the face himself and presented the same to Bhai Balaki Dass's mother.
"The present building of Gurdwara Nanakshahi was renovated in 1988-89 with the efforts of S. Harbans Singh, an IAS who was International Jute Organisation Director at Dhaka. In an article in Sikh Review in January 2000, Harbans not only mentioned the history of this rare picture but also stated that this portrait is with the Victoria Museum in Calcutta. Besides a portrait of Guru Gobind Singh adorns the walls of Sri Damdama Sahib."
Like father like son. Gurprit Hansra's son Harkirat (15) has made a website about Sikhs (www.infaaboutsikhs.com). Hansra says, "Post-9/11, Sikhs were mistaken for Muslims and faced assaults. When one Sikh got killed, it disturbed Harkirat to such an extent that he decided to educate Americans about the identity of Sikhs through the website. This website became so famous that Vallery Kaur Brar, a fourth-generation Sikh who was studying journalism at Stanford University, made a film on him. This film, titled Divided We Fall, became an instant hit among Sikhs and other Indian communities and Harkirat became a hero in Sacramento.
A number of radio and TV stations approached him for interviews. This exercise helped the very cause of the website on Sikhs, as it made Americans understand the difference between Sikhs and Muslims.