Body business
Body beautiful never had it better. A 'lift' here and a 'fluff' there and voila you could turn into India's answer to Pamela Anderson! Why? Because this country is fast emerging as the one-stop shop for cosmetic surgery and our very own city is contributing widely to this burgeoning trend. And it is not just the resident populace at large, it is a flurry of outsiders who are thronging to get those Botox injection, collagen induced pouts (a la Angelina Jolie!) and of course, those nips, tucks and enhancements to look perfect. Hear it from the horse's mouth. In this case, 28 –ear-old British model Toni Samantha Wildish who is firmly ensconced at Fortis Hospital, Mohali, after having her second breast augmentation job done, along with 'bosom' buddy Karen Cook, who has also gone through the same procedure.




BUXUM BEAUTY: British model Toni Samantha Wildish (left) and Delhi based model Deepika (right) posing for the 'perfect' picture. — Photo by Vicky Gharu
Justify it as an aftermath of hype created by channels on the television! Or love for Shah Rukh khan! The fact remains that "KANK" is luring even the teenagers, says Saurabh Malik
Emotionless love among couples tied down by the knots of matrimony in the times of adultery may still be a distant reality for so many starry-eyed teenagers shouting sweet nothings over the din of juke box music in fast food joints across the city. But Karan Johar's Kabhi Alvida Na Kahena sure is fascinating them.

BULBS: STORAGE AND PROPAGATION
Bulbs are seasonal and therefore qualify for different storage procedures. Summer bulbs are left in the ground, to come up on their own the following year. Winter bulbs are dug out and put in dark, airy spaces. I find that in Chandigarh, except for exotic, cold climate bulbs like tulips, daffodils, hyacinths, hybrid gladiollii and irises, most bulbs can be left in the soil.

Colour your lips
Lucky are those people who have glossy, red, rose petal lips. Aspire for lips like Anjelina Joli or Ashwarya Rai? Lipstick is one, which can enhance beauty of your lips and give you your dream pouts.

COOL STUFF
Matrix – Shades for the season
Matrix, American's number one professional products range launched its latest striking hair colour collection of mocha shades for the season. SOCOLOR. Beauty: this hair colour range contains patented formula of natural oil derivative and a dual action catonic conditioning system for added protection, supplements and glossy shine for your hair.

Saapna's piya
Saapna Mukerji is back with yet another album Mere Piya. It is a combination of dreamy love, melody and poetry.


Fantastic Five
Five young boys from this region have braved the cold and rocky terrain to enter their names in Limca Book of Records, reports Smriti Sharma
What thrills the modern youth and keeps their adrenaline pumping up and about? Perhaps it's the cosmetics, designer apparels for cheeky lasses and hi-tech laptops, latest i-pods for boys may be. But for this motley of five young boys; it is traversing the rocky terrains and braving the icy cold weather that gives them a definitive high. Combined with this they had a noble mission to accomplish.

SETTING A RECORD: Rajwant Singh, Harsimranjit Singh Gill, Karan Datta, Amit Raj and Ashish Gupta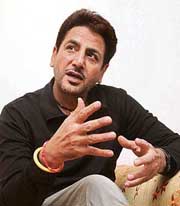 MAAN MADE
Does the longing of being one with the muse actually make it happen? In the case of singer, actor Gurdas Maan, the answer is yes. "I have been reading Waris Shah's poetry since I was a child. When I sat alone in the fields or did my riyaaz, I thought first of Heer. This is the great Sufi poet's vardaan, blessing to me."

This sanctification holds great meaning for Maan for he is portraying his muse, the sufiana poet Waris Shah in Sai Productions' Punjabi film, Waris Shah, Ishq Daa Waaris. In the city for the release of the film's music on Thursday, Maan paid rich lyrical ode to the poet. "For me, he is more than a bard who suffused the region with this works. He is a great philosopher who described everything with sweet, refined beauty. He is the essence of Punjabiyat, of shabdavali (the spoken word), of music, of poetry, of the very soul of the region. For me, he is a pir."

FILM & FASHION
Doharty behind bars
Pete Doherty, the lead singer of the band Babyshambles and Kate Moss' boyfriend, was put behind bars yesterday after being charged with seven counts of possessing drugs, including heroin, cocaine and cannabis. Doherty has had a string of previous drug arrests, with the latest coming after he was stopped by police in a London street last week on suspicion of drug possession. According to the Daily Mail, he will now appear before Thames Magistrates' Court, in Bow, east London. The star, who has had a long-running heroin addiction, recently insisted that he is trying to be clean after coming out of a Portugese rehab clinic.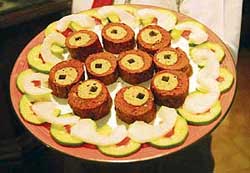 A taste of Awadhi splendor
Five hundred years after the great Mughals brought along with the splendor exotic spices, dried fruit, and nuts, along with deliciously new cooking methods; the charm — like the aroma of well-cooked food — continues to linger. No wonder, food festivals, commemorating preparations from the land of the Mughals, seldom fail to bake steaming-hot excitement among so many city residents. And when the restaurants offer foodstuff that promises to cook up bygone grandeur surrounding the Awadh nawabs, the ingredients are just right for a perfect meal in faultless ambience.
FILM & FASHION
Dieter's Dilemma
The Japanese eat little fat, and suffer fewer heart attacks than the British and the Americans. The French eat lots of fat, yet suffer fewer heart attacks than the British and the Americans. The Italians drink a lot of red wine, yet have fewer cardiac problems than the British and the Americans. A logical conclusion? Eat and drink what you like. Speaking English is apparently what kills you!
Sizzling hot dogs
Hot dogs are sizzling in the dog days of 2006 like never before. In fact, the American street food is giving hunger pangs not just to the students tasting youth in university and college campuses. Even not so young city residents are flipping through the dog-eared menu cards before ordering the scrumptious foodstuff for tickling their taste buds with an abundance of excitement.
Bread dessert
Navneet Kaur Hundal
The commoner amongst food—Bread—is probably the greatest cultural binder of all time, eaten as it is by almost everyone, everywhere!
---