Far from the madding crowd
Paramvir Singh Bains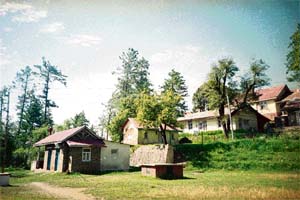 A view of the rest house at Craignano with the bungalow in the background. ó Photo by the writer
Craignano figures prominently on the map of the Himachal Pradesh Tourism Development Corporation. However, the route to Craignano from Shimla is full of short breaks at Dharampur, Barog and Shimla. The bypass at Barog is full of potholes.
We broke our journey at a rest house at Tara Devi and took the bypass towards Dhalli. The route is green and there is not much traffic.
After reaching Dhalli, we took the road to Mashobra through the lush forests and one can enjoy the peace. This road goes to Naldehra. Just a few kilometres ahead a rusty signboard indicates the road to Craignano. If not careful, one is likely to miss it. A few kilometres more and we reached Craignano, 16 km from Shimla at 7,700 feet above the sea level.
Oak and pine trees are found in abundance here and their fragrance fills the air. A dak bungalow was built by the British who came here to play billiards and read books. There is a small collection of books at the library here. After Partition, a rest house was built comprising five rooms spread over 128 bighas, adjacent to the dak bungalow.
Green is the colour found in abundance here and no car honking or tourist rush. There is a garden in front of the bungalow where one can enjoy the sunlight. A small platform with a roof has been built for the comfort of the tourists. A few cracks have scarred it. One can walk around the place with no one to disturb.
There is a store behind the dak bungalow, stacked with goods of the British era, rusting, with no one to take care of.
The rooms in the rest house are simple. Those who want to have a taste of English cutlery can have so in quarter and full plates, as only these remain now.
According to the caretaker Prem Chand, the place is more frequented during summer. For the convenience of tourists, the billiards room has been converted into a dining hall.
During winter, one should check before planning a visit here as the place is closed for a certain period. One needs to take permission from the municipal corporation office in Shimla. Come here and enjoy nature for a few days. You will cherish it for life. A warning for those who like blaring music, city-like facilities and modern gadgets: Please donít come here.