Unfair fun
Despite the unflagging popularity of comedies, Bollywood has produced woefully few comediennes, writes Vikramdeep Johal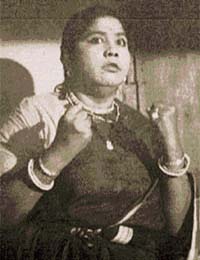 Tun Tun gave up singing to become the comedy queen of Hindi cinema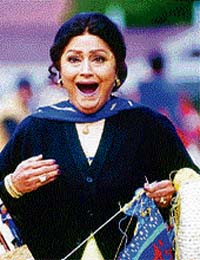 Former vamps Bindu (above) and Archana Puran Singh (below) have done comic cameos in films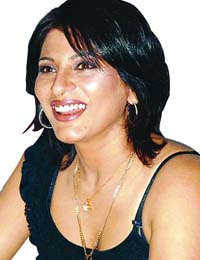 THE female of the species is deadlier than the male, Rudyard Kipling wisely said. But is she also funnier? Bollywood doesnít think so at all, going by the never-ending paucity of comediennes in Hindi cinema.
Comedy has virtually become a male preserve these days, with Paresh Rawal, Johnny Lever, Shakti Kapoor and Rajpal Yadav strutting their stuff in one film after another. On top of that, almost every hero is jumping on the fun bandwagon.
On the distaff side, Bindu and Archana Puran Singh have done some comic roles, but these have been just cameos. Bindu was delightful as Mrs Kakkar, the Hindi teacher who pronounces English words with a Punjabi accent in Main Hoon Na (2004), while Archana was the maddening mother-in-law in Masti (2004). Interestingly, both actresses were famous vamps during their younger days (just as Shakti Kapoor and Kadar Khan were established villains before they turned to comedy). Sometimes cast as a love-starved spinster, they have gleefully parodied their "seductress act" ó take Bindu in Aankhen (1993) and Shola Aur Shabnam (1992) or Archana as Ms Briganza in Kuch Kuch Hota Hai (1998). Upasana Singh, too, has played the comical vamp at times, notably in Hungama (2003).
"Most actresses are reluctant to become a figure of fun," says renowned comedian Jaspal Bhatti. "They would rather look glamorous than ridiculous."
There has been only one comedienne in Bollywood history who has given her male counterparts a run for their funny money ó the inimitable Tun Tun. She started off as a singer but soon switched over to comedy. In her debut film Babul (1950), she had the privilege of working with Dilip Kumar (he was the one who changed her name from Uma Devi to Tun Tun). Using her rotund figure to great effect, she tickled many a funny bone with her performances in umpteen films, notably Guru Duttís classics like Mr & Mrs 55 (1955) and Pyaasa (1957). She acted with top comedians like Johnny Walker, Dhumal and Bhagwan, but never let them steal a scene. Tun Tunís contemporaries Lalita Pawar and Shashikala occasionally excelled in comic roles, but they never threatened to dethrone the comedy queen.
Ashok Kumarís daughter Preeti Ganguly followed in Tun Tunís footsteps as "the funny fat female". She was very good as Freni, the die-hard Amitabh Bachchan fan, in Khatta Meetha (a remake of the Lucille Ball comedy Yours, Mine and Ours). On the whole, Preeti failed to establish herself as a big-time comic actress. Last year, she made a surprise appearance in Aashiq Banaya Aapne. Her replacement of sorts, Guddi Maruti, has never done anything better than playing the heroineís roly-poly friend in films like Shola Aur Shabnam.
Even top heroines rarely get meaty roles in comedies. Quite often, they have played second fiddle to heroes like Govinda, Salman Khan and Akshay Kumar. Preity Zinta and Rani Mukherjee have a flair for comedy, but they have never got a plum part like the one Rekha played with aplomb in Khubsoorat (1980).
On the small screen, women contestants are conspicuous by their absence in The Great Indian Laughter Challenge, which indicates that budding actresses are not keen to specialise in comedy. Among the veterans, Ratna Pathak Shah is a joy to watch in the entertaining sitcom Sarabhai vs Sarabhai (she was also superb in Filmi Chakkar). However, her comic talent hasnít been tapped by Hindi film-makers.
Bhatti thinks that male performers are better suited for the kind of loud and crude humour in vogue today. His wife Savita, who has done comedy in TV serials as well as films, says that actresses like her usually get stereotyped movie roles in which there is little scope for showing oneís histrionic prowess.
With Bollywood loath to create a conducive environment for comediennes, their scarcity will inevitably go from bad to worse. That wonít be a funny development, to say the least.