Be game for sports physiotherapy
With sports physiotherapists being in great demand, this is a field fit to be in, writes Neeraj Bagga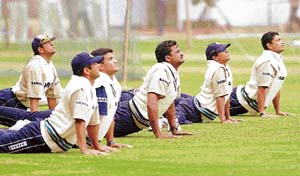 Sports has become a lucrative field today and the involvement of MNCs has been a boon for its allied professions as well. One such job is that of physiotherapist.
No team and management can afford to ignore the person who holds the key to the playersí physical well-being in the fast paced world of sports. Almost all sports teams, playing at the regional, state or national level, make sure that they have a physiotherapist to treat the playersí injuries.
Sports medicine has come a long way as a discipline, rendering valuable service in the understanding, prediction and influencing of human behavior in
physical activity and sports. Its specialists serve as consultants, counsellors, performance enhancers or educators to veteran as well as budding sportspersons. They play a significant role in sports psychology, sports nutrition, sports biomechanics, training methods, rehabilitation and research.
Guru Nanak Dev University, Amritsar, which is called the Ďsports arm of Punjabí, was the first in South-East Asia to introduce a Masterís in Sports Physiotherapy (MSPT). This course has been accepted as the premier programme for training physiotherapists since 1995. Three years later, the Bachelorís in Physiotherapy (BPT) course was introduced to create entry-level physiotherapists in this region.
The University Grants Commission (UGC) declared the department as a Centre for Potential in Sports Sciences and the university has a plan to establish the first Sports Sciences Institute in South-East Asia.
The students of the department have the rare privilege of undergoing training and undertaking research in collaboration with the Sports Authority of India, the local Government Medical College, the National Institute of Rehabilitation Training and Research, Cuttack, Institute of Physically Handicapped, New Delhi, and National Institute for Orthopaedically Handicapped, Kolkata.
Course clues
The Masterís in Sports Physiotherapy is a two-year integrated course. It is designed to meet the needs of physiotherapists and specialists who wish to further develop expertise in aspects of clinical practice relating to this field. The course was designed and formulated for the first time in South-East Asia and was subsequently rated as the golden standard for sports physiotherapy courses.
The primary objective of this course is to provide students with specialised knowledge and clinical skills necessary for effective and competent sports physiotherapy practice, including advance training in research relating to the field.
Eligibility
This course is different from other Masterís courses in Sports Physiotherapy in the country, which have sports as an elective subject only in the second year.
For admission to the postgraduate course, a candidate must either have a Bachelorís in Physiotherapy with at least 50 per cent marks from any recognised university/institute or an equivalent/higher degree or M.B.B.S.
The Bachelorís in Physiotherapy (BPT) is a four-and-half-year integrated course. The varsity was the first to introduce the course in North India. For admission is this programme a candidate must be plus two in the medical stream with a minimum of 50 per cent marks or any other examination equivalent.
This course provides expertise in curing patients afflicted with disorders of joint muscles, bones, brain, nerves and certain cardio-pulmonary conditions, which require a long-term physiotherapy support. The aim of this programme is to create quality human resources in this field of healthcare.
Hospital management
The department has introduced a new Postgraduate Diploma in Hospital Management from the current academic session. The candidates who have done MBBS / BDS / BPT /B.Sc. Genetics / Nursing / Human Biology / Biotechnology / B. Pharmacy / B.E. / B. Tech. / B. Arch. / M. Sc. in Life Sciences are eligible for this.
Admission to all above mentioned courses is on the basis of an entrance test conducted.
The department has an array of experts to guide the student.Besides, a number of visiting fellows from the UGC, the Center for Excellence in Sports Physiotherapy and the local government hospital deliver lectures to the students from time to time.
The department boasts of labs and clinics equipped with the latest gadgets to provide relevant exposure to its students. It has a Sports Science Lab to meet the clinical teaching and research requirements, a Sports Medicine Clinic, Centre for Excellence in Sports Physiotherapy, SMPís Clinical Neurophysiology Lab, Exercise Physiology Lab, Sports Psychology Lab, etc. It has a Sports Medicine Clinic which provides consultation and treatment to sportspersons of this region.
Dr Sandhu says that the department will soon have an Isotonic Rehab Lab.