Pluto dethroned
Rajesh Kochhar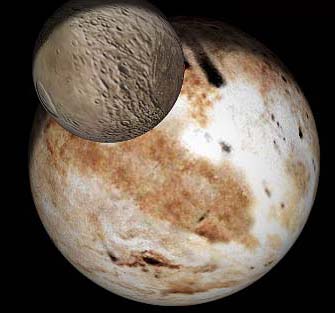 Pluto with its moon Charon

The world body of professional astronomers decided at Prague, on August 24, by an overwhelming vote, to remove Pluto from the category of planets. There are now officially only eight planets: Mercury, Venus, Earth, Mars, Jupiter, Saturn, Uranus and Neptune. (Let us have a competition to design a new mnemonic.) Tentatively, Pluto has been dubbed a "Dwarf Planet".
While taking up the vexing question of defining a planet astronomers were acutely conscious of the fact that though their task was a professional one, it obviously had a public dimension. Assigning names and categories to some far-off celestial body is one thing, tampering with school textbooks and encyclopaedias quite another.
While most astronomers agreed that the term planet need be restrictively used (for almost round heliocentric bodies that have cleared their orbit), an acceptable name for Pluto-like objects was not forthcoming. While like most others I had no objection to Pluto's being de-planetised, I could not help pointing out in the pre-poll discussion that the term Dwarf Planet was grammatically unsound. A Dwarf Planet is still a planet. What we need is a new term without any past baggage.
This was the expression of a general sentiment. That is why inverted commas have been placed around the term (not that you can pronounce them) denoting the hope that a better name will emerge in course of time.
Also, it may be noted that the adjective dwarf is a misnomer. Pluto's disqualification stems not from its size but from its orbit.
Even at the time Pluto was discovered (1930), it was known that it was dynamically an oddity, because its orbit intersected that of Neptune. But since it was the only object beyond Neptune, it was not possible to place it in any context. But now, thanks to advances in astronomical technology, we already have another object beyond Pluto; it is technically called 20003UB313 and has been nicknamed Xena.
There are many others, farther away, waiting to be counted. It has now become possible to categorise Pluto.
The fact that we are officially using imprecise terms like Dwarf Planet and Trans-Neptunian Objects shows that there is confusion in abundance. But this is nothing to be ashamed of, although the International Astronomical Union, officially assigned the task of managing celestial affairs, could have handled the whole affair better, by applying its mind more diligently and coming up with more precise definition and terminology.
The confusion, however, is a welcome development. There was a long-standing classical plateau in our planetary knowledge when the naked-eye planets, that is the ones up to Saturn, alone were known. Another plateau was reached with the discovery of Pluto. Our present uncertainties about solar system membership arise because we are in the midst of growing knowledge.
Once a new plateau is reached, we shall be able to make a neat arrangement, which will last till yet another new breakthrough muddies the waters once again. This is scientific progress, because each confusion is more sophisticated than the previous one. It goes to the credit of the scientists that they recognise confusion and try to remove it, all by themselves.
In the meantime, for those participating in quiz programmes, the answer to the question: How many planets does the Sun have?, the answer is eight. But if you are a school student , check with the Board before giving the correct answer.
The author, a former Director of NISTADS, attended the IAU meeting at Prague on August 24.