Saturday, Aug 26, 2006
Saturday, Aug 19, 2006
Saturday, Aug 12, 2006
Saturday, Aug 5, 2006
Saturday, July 29, 2006
Saturday, July 22, 2006
Saturday, July 15, 2006
Saturday, July 8, 2006
Saturday, July 1, 2006
Saturday, June 24, 2006
Saturday, June 17, 2006
Saturday, June 10, 2006
Saturday, June 3, 2006
Saturday, May 27, 2006
Saturday, May 20, 2006
Saturday, May 13, 2006
Saturday, May 6, 2006
Checking in retirement resorts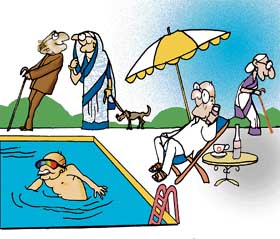 A growing number of financially independent senior citizens now prefer to stay in retirement resorts instead of languishing in the quintessential old-age homes that they feel are "overcrowded" and "unsafe". Insecurity, loneliness and lack of companionship — some of life's hard-to-swallow problems — become a daily reality for these elderly persons whose children either settle abroad, or in some other state, for better career opportunities. The concept of retirement resorts or complexes is gradually emerging as the most viable option among the senior members of society who are financially independent.

Residential realty index on anvil
Reverse mortgage scheme for senior citizens by year end
An exclusive index, NHB Residex, for residential property prices is being developed to bring transparency in property deals, says NHB Chairman S.Sridhar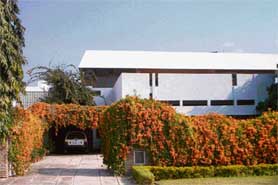 Colourful foliage of fragrance
Right choice of the climber is of utmost importance, says Satish Narula
Amongst the entire flora available with the horticulturists, climbers are the favourite and there are reasons for it. Climbers, as the name implies, can reach and 'enlighten' any corner of the house whether accessible or not. A wide range of types is available, for sunny, semi-shade and full shade locations.
Tagging sale label on home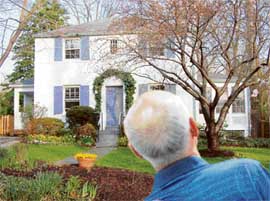 A seller should put his house in order and understand buyer's psychology, says
Raman Mohan
Buying and selling houses is no longer best left to the property dealers. While the middlemen will continue to have their role in the deals, nowadays, one needs to hone marketing and negotiating skills to get a good deal whether one sells or buys. The buyer and seller profiles have changed since the housing boom began a few years ago, thanks to lower interest rates and burgeoning pay packages.
Power of Attorney likely to become ineffectual
Is it the way out? R.P. Malhotra asks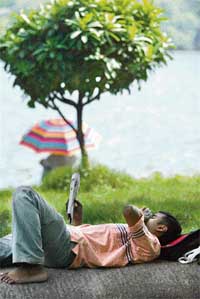 A man reads a newspaper as he lies besides a lake in Kolkata. Environmentalists are raising their concern on the encroachment of wetlands and small water bodies due to the increasing real estate boom in the country's major conurbations. The real estate aggression on waterbodies has prompted the Calcutta Metropolitan Planning Committee (CMPC) to ask the civic authorities to protect and preserve all wetlands in the city. The committee also decided that every development proposal relating to the wetlands has to be approved by the Environment Department. — AFP
TAX tips
Rent received by Power of Attorney holder is taxable
Q. I have purchased a residential house on power of attorney basis. I have given the said house on rent. Is the rent received by me taxable as I am not the legal owner of the property?
Poaching on the green belt
Encroachment continues along the National Highway while authorities look on, says Ravi S. Singh from Gurgaon
Showcasing aesthetics
New products to hit the market are a visual delight, notes Shveta Pathak
Strengthen roof for sturdy home
Treat roofs with waterproof coating chemicals right from the day lintel is laid. A person finds himself helpless if after spending lakhs on a house, cracks appear on the ceiling leading to leakage, say noted experts
Buzz on Bourses
UTI Bank loans
New Delhi: UTI Bank has announced to float a financial scheme for freehold residential plots at various prime locations in Faridabad offered by HUDA. This is yet another scheme where the bank is offering 100 per cent finance at attractive rate of interest.
Vaastu keeps Himachal designers busy
Ancient skill plays a significant role in hill architecture, says Vibhor Mohan
MNCs step in Manesar
Manesar, near Gurgaon, is emerging as the new destination for industrial and service providers. With government emphasis on providing best infrastructure, it is expected soon to be far ahead of other industrial and corporate sites.