fashion
Say it with stones
Aakriti Sinha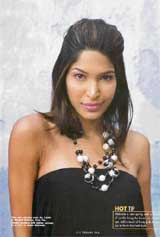 Make a bold and funky statement with beads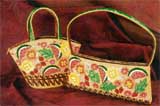 Bag those sequins
It is one of the prettiest forms of decoration – it adds a touch of intricacy, lends a delicate feel and creates a look that's hard to match. What we're talking about is the designer trend to accentuate fashion wear – be it clothes, footwear or handbags – with beads, stones, sequins, etc.
Let's start with the most attractive and possibly most expensive of stones — the crystal. Nothing can beat the cool chic of these sparkling, glassy stones. If Swarovski is a little out of your range, don't despair — there is a pool of affordable quality crystals for you to binge on. Montana blue crystals, mother pearl shells with crystal spring colours, Rhodonite necklaces and, best of all, the Quartz glass necklace.
The use of stones is not limited to jewellery alone. Says the ravishing Sushmita Sen, "My costliest possession is not the diamond ring gifted by my mom, instead it's a Swarovski crystal-studded dress, which I bought from Paris." Crystals are found nowadays on sarees, dupattas, fancy footwear and even bindis. What's more, these glittery stones are adding an exciting twist to body art. Stick-on tattoos often sport a sprinkling of crystals. Want to try something really extravagant? Why not go in for a pair of diamond-ridged sports shoes like the ones racquet-wielding Maria Sharapova has?
If crystals are not your style and you still want something with glitz, try out sequins. These shiny discs have a lot of plus points – they are cheap, available in a riot of colours and can be used even by amateur designers. Unfortunately, sequined stuff has to be treated with care – rough washing can easily ruin your design. Nobody likes to have teeth missing in their mouth right? Well, a sequin design with sequins missing can look just as bad. Another point to note – sequins have to be used sparingly – overdoing them can make a potentially classy outfit look kitschy.
And if class is really what you want, you should be looking at pearls. No one really knows who the earliest people to collect and wear pearls were, but it is believed by some that an ancient fish-eating tribe, perhaps along the coast of India, initially appreciated the shape and lustre of saltwater pearls, which they discovered while opening oysters for food. They have been used for adornment in jewellery for almost 6,000 years now.
Pearls are regarded as one of the most valuable gems because of their rarity, unique characteristics and minimal need for processing. The best pearls are those with uniform shape, the true rounds being the most valuable. When buying strands of pearls, look for well-matched lustre, colour and shape. Also look not only at the centre of the strand, look down the strand to the ends. Many clever stringers place the best beads in the centre of the strand, and the less expensive or lower grades are placed on the ends where most people won't notice. Uniformity, pitting and wrinkles are the points to watch out for in this case.
While the most valuable pearls are the natural pure white ones with their trademark touch of pink nacre shine, other naturally occurring colours are the beautiful range of pinks and peach-oranges. But what about fashions that require a range of colours wider than mere pinks and peaches? Well, designers have found a clever way to match the colouring of natural pearls to their fashion range. Cultured pearls have their natural colours enhanced to blend with fashion accessory colours. So while white pearls have their own elegant touch, pink`85especially the pure pink ones look killer when teamed with office wear.
For the rustic look, nothing can beat the look of turquoise. They are found in every shade of blue and green and every hue in between. Remember all the blue and green-colsoured stones donned by Aishwarya in Shabd? Turquoise is considered by many people to be lucky – they are worn as charms in the form of finger-rings or on lockets on chains. For many people, this stone represents peace, coolness and calm.
So whether it's a glamorous party or simply an evening with friends, make a fashion statement with a bejewelled handbag or a bohemian beaded belt. —MF