Elton John to go hip-hop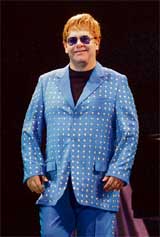 Sir Elton Johnís fans, who are more used to ballads like the record-breaking Candle in the Wind which he sang at Princess Dianaís funeral and Sacrifice, will now be offered some change, as the veteran singer is now planning to record a hip-hop album.
The 59-year-old star, who releases his latest record The Captain And Yhe Kid next month, has already thought about his next project, for which he plans to use his showbiz connections to enlist the biggest names in rap, including Dr Dre, Kanye West and Snoop Dogg.
"I want to bring my songs and melodies to hip-hop beats," BBC quoted the singer, as telling Rolling Stone magazine, in an interview printed on their website.
"I want to work with Pharrell, Timbaland, Snoop, Kanye, Eminem and just see what happens. It may be a disaster, it could be fantastic, but you donít know until you try," he told the publication. ó ANI