Stick stars
Vikramdeep Johal profiles six players who are likely to hog the limelight at hockey's biggest event
There might be no David Beckham or Cristiano Ronaldo in hockey, but the game has its illustrious veterans as well as young guns whose pyrotechnics can set the Astro-turf on fire. Here are six players who are likely to make their presence felt during the World Cup.
Clockwise from top left: Santi Freixa, Taeke Taekema, Matthias Witthaus, Tejbir Singh, Grant Schubert and Sohail Abbas.
Toughest turf
Col Harcharan Singh, who scored the match-winning goal in the 1975 World Cup semifinal against Malaysia, says that India must play to their potential to come in contention for a semis berth this time
India's chief coach Vasudevan Baskaran has trained the boys hard to enable them to face the rigours of the World Cup. Sandeep Singh's absence would no doubt be felt, as he is the best drag-flicker in the country, but it would be a morale-booster for the team if his substitute — Jugraj Singh, Raghunath or Vikramjit Singh — rises to the occasion.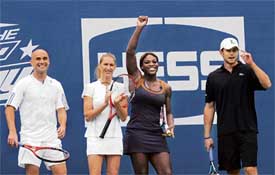 It takes four to tango:

(From left) Andre Agassi, Steffi Graf, Serena Williams and Andy Roddick are all smiles during a tennis skills charity event prior to the US Open in New York. — Photo by Reuters
South Asian games
A cut above the rest
Ramandeep Singh
India, as expected, garnered the maximum number of medals at the 10th South Asian Games in Colombo. Though India won 234 medals overall, including 118 gold and 69 silver, it was no surprise — being the regional sporting superpower — that they completely overwhelmed the opposition. But India sent under-strength teams in hockey, football and shooting, which affected their medal tally. Nevertheless India improved upon their performance from the last edition of the games held in Islamabad four years ago, where they won 101 gold medals.