Unto this last
Akanksha Bhalla tells the story of Amit Sachdeva, a Chandigarh-based tabla player who was deeply devoted to music and his guru — in life and death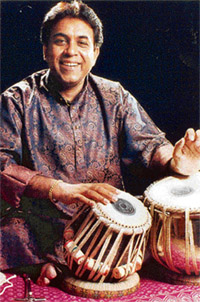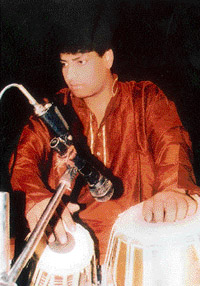 Tabla player Amit Sachdeva died heartbroken. He could not bear the loss of his guru, the renowned Shafaat Ahmed Khan (top)
Music, according to Beethoven, is the mediator between the spiritual and sensual. And when integrated with the force of love, the product could even be devastating. Such is the story of Amit Sachdeva, a tabla nawaaz of Delhi Gharana and a disciple of Padma Shri-recipient Ustaad Shafaat Ahmed Khan. Amit not only lived for his music and the love for his guru but resigned his life to them on July 30, 2005, when he breathed his last at the age of 27.
At the age of 10, when other kids could barely remember their lessons from class, Amit had got a firm grasp over bongo, drum and finally the tabla. It was tabla that fascinated him and it wasn't long before he came into the fold of renowned tabla maestro Shafaat Ahmed Khan. The devotion to his guru and tabla became a blinding passion for this budding musician.
He would bunk school but unlike other kids who went bumming around with friends, he would go home and practise tabla, says Rishi Ranjan, Amit's closest friend.
As he grew, his love for tabla also grew. Every Saturday, he would catch a train to Delhi to attend Shafaat's tabla class.
Soon, Amit started giving his own performances. He performed solo in the festival, Arpan-2004, organised by renowned Kathak dancer Shovana Narayan.
The performance would get over but Amit's tabla wouldn't stop, says Rishi. He would come back home, light a candle and keep playing till the candle burnt out.
Amit was completely devoted to his guru, says Rishi. All that mattered to him was what his guru said, what his guru liked and what his guru wanted. Amit's feelings did not go unreciprocated. No matter which part of the world Shafaat went to perform, while accompanying legends like Pt Shiv Kumar Sharma, Pt Hari Prasad Churasia, Ustaad Amjad Ali Khan and Pt Bhimsen Joshi, he would call to ask about his favourite disciple Amit.
Amit had his own band of disciples in Chandigarh. He would never look at the watch while teaching. He never took any fee from his students. Says Rishi, "Amit ne table se paisa nahin kamaya, uski pooja ki hai."
"On July 24, 2005, Shafaat Ahmed Khan succumbed to an illness. His death came as a big blow to my son," says Amit's father Gulshan Sachdeva. He would watch his guru's CDs into the night. He was to perform at a function with Ustaad Ashish Khan, son of Ali Akbar Khan, in memory of his guru.
But Amit could not survive his guru's loss. A week after Shafaat's death, he suffered a fatal heart attack. "Even on the way to the hospital Amit played tabla with his fingers and his lips moved silently with bol," recalls Amit's mother.
On his last day, Amit played for 17 hours.