Farhan Akhtar's remake of the 1970s Amitabh Bachchan hit Don is 60 per cent complete and is likely to get a Divali release. "We are looking at a Divali release. The film is almost complete," Farhan said. "I'm not stressed. But it is a very hectic round-the-clock schedule. We are working like crazy," said Farhan, sounding far less relaxed than he usually does. He's been shooting vigorously in Malaysia.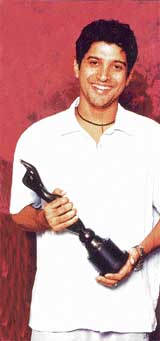 Farhan Akhtar: Making Don was fun
"Malaysia is almost like a character in my Don. See, the whole point of re-making a classic featuring Amitabh Bachchan was to give it my own twist. I have tweaked my dad and Salim saab's script a bit.
"The essence of Don remains the same. But in terms of look, mood and flavour, my Don is very different. I'd say it's my homage to the original. Yes, I am very happy with what we have shot so far."
The tuning between Farhan and his leading man Shahrukh Khan is the talk of tinseltown.
"We were friends before Don. See, both Shahrukh and I are ardent fans of Don and Mr Bachchan. When we finally started working together, it was like his enthusiasm combined with mine.
"Shahrukh's energy level is infectious. He gives intelligent suggestions. And since I am always open to suggestions — who says I am not? That is totally untrue — I enjoy Shahrukh's inputs.
"We are having a whole lot of fun. Though I must tell you it's a lot of hard work. I can't even begin to describe what it is like."
Talk veers to the much talked about Khaike Paan Banaras Wala song-and-dance routine that they recently shot.
"We knew what Mr Bachchan had done to the song in the earlier Don. Shahrukh and I weren't even thinking about it when we took the plunge. First of all, we are great fans of the song. It is truly a monster of a song. But what Saroj Khan did with Khaike paan...is incredible.
"Of course, there is an element of deja vu in the choreography. But she has taken the number somewhere else." The feisty filmmaker takes a deep breath. "In fact, all of us here in Malaysia are paying homage to the earlier Don. It is true that we have improved on the technical value immensely. But how far could we go with technique alone?
"Whether it is Shahrukh, Priyanka, Arjun Rampal, Isha Koppiker, Boman Irani, Om Puri or Kareena Kapoor doing that incredible number Yeh mera dil pyar ke deewana by Helen, we see our efforts as a tribute to a film we have all seen and loved featuring our ultimate screen hero Amitabh Bachchan."
Farhan regrettably doesn't recall ever going on the sets of Chandra Barot's Don as a child, which his father Javed Akhtar co-authored with Salim Khan.
"All my nostalgia for the film comes from watching Don on screen. It has taken me to a totally new territory. It's fun but also very stressful, and not because people are going to compare my film with the previous Don.
"That doesn't bother me. I just wonder if my vision would come through in the film. The rest is all hypothetical right now." — IANS