Workers are clearing and sorting out pieces of the two well known but damaged Bamiyan Buddha statues in central Afghanistan, which might be rebuilt by the end of 2009. At the site in Bamiyan province, Afghan workers with yellow safety helmets are collecting pieces of the two statues with shovels and handcarts.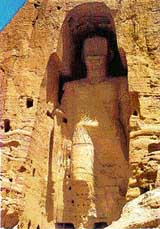 One of the two Bamiyan Buddha statues, which were the highest in the world
The two Buddha statues, which used to be the highest standing ones in the world, were destroyed by the extremist Taliban regime in March 2001. The regime claimed they were idolatrous and anti-Islam.
Some stones, from the two destroyed statues, are lying below them and have been noted with sequence numbers. The programme of sorting out the debris is being carried out with a fund of about $1.3 million sponsored by Unesco.
This is being done so that the reconstruction of the two statues can be initiated as soon as it gets approval from Afghan parliament.
Ramin, an official from the Afghan information and culture ministry, says the clearing and collecting job would be finished in about a year. And the entire reconstruction, according to him, would be completed by 2009 if parliament ratifies it in time.
Though Afghan President Hamid Karzai has promised to rebuild the two statues, a green signal from parliament is necessary.
No date has been set for parliament to examine and put the project to vote.
However, observers believe clearance from parliament would not be a problem, as most Afghans are eager for the restoration. Scientists say rebuilding each statue would costs about $30 million and Ramin says this amount would be met by international organisations.
The two statues, measuring 53-metres and 35-metres each, were chiselled about 1,500 years ago into a 500-600 metre high cliff.
The 150-km journey from capital Kabul to Bamiyan city takes over seven hours by road. Bamiyan province stood on the ancient Silk Route, which linked Europe to East Asia.
Now, most of its 400,000 people live in poverty with some families still dwelling in caves. Local residents too are now awaiting the reconstruction of the ancient statues.
"The statues' disruption dealt a huge blow to both Afghan and world culture, and brought huge losses to local tourism," Merajan, a 53-year-old man, told Xinhua.
He said thousands of tourists visited the site at one point of time and the city had 20 fine hotels to accommodate foreign and domestic visitors.
However, tourists have reduced to just a trickle and there are only three-four hotels scattered across the city.
"Without doubt, reconstructing the statues would do good to local tourism," Merajan said. "I really hope the Buddha statues can be rebuilt as early as possible. They are part of the lives of Bamiyan and Afghan people." — IANS