Lion of Punjab wows London
Mike Lockey
A new play, charting the life and times of Maharaja Ranjit Singh (1780-1839), has recently been performed in London. The Lion of Punjab tells the incredible story of a man who became the ruler of Punjab at the early age of 10, on the death of his father, and who then went on to rule for 35 years.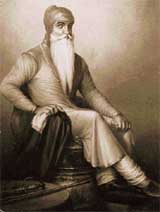 Maharaja Ranjit Singh
The play was staged by Southall-based Punjabi Theatre Academy. According to a review in the Asian Times, they have produced: "a spectacle of costume and dance with a strong Bollywood flavour".
The Maharaja lost an eye after contracting smallpox and turned this to his advantage by saying: "God needed me to pay my undivided attention to all religions...that is why he took away the light from one of my eyes".
He seems, then, to have been quite a character — for a start, he got married 12 times and, according to the play, was a wise and strong leader who cared for his subjects and united them regardless of creed.
Lessons to be learnt there then, in assorted parts of the modern world, though it is unlikely that many Iraqis or Israelis, to name but a few, will have the time or opportunity to visit London and see for themselves — and maybe even learn something along the way.
According to the writer, James Brabazon, this extraordinary monarch: "was an example to everybody for all time. He was absolutely unique in his combination of military and diplomatic skill. He was a many faceted character who always retained his essential humanity and sense of obligation to human beings".
And talking of many facets, the kohinoor diamond, now part of the British crown jewels, once belonged to the Maharaja. The Lion of Punjab features music composed by Kuljit Bhamra, who uses the poetry of the court poet, Shah Mohammed, to create the sounds of the time in which the play is set, and the songs in the show are sung by 19-year-old Shahid Khan, winner of the Asian Star Search Competition (Hindi category).
As a postscript: in real life and after the Maharaja's death, his son, Dalip Singh, was taken to England and became a favourite of Queen Victoria. Back in India.
— ANI