Hrishida: Life at its gentlest
Saibal Chatterjee
When a titan bows out of the scene forever, obit writers tend to quickly allude to the end of an era. With the death of Hrishikesh Mukherjee, however, it is not merely an era on which the curtains have dropped. A whole sensibility, an entire way of making films, has lost its greatest votary.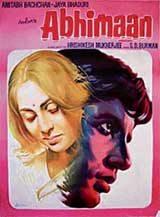 In Abhimaan, directed by Hrishida, Jaya and Amitabh gave one of their finest performances
Well before Mukherjee passed away into eternity, his brand of cinema was gasping for breath. The very creative credo represented by the maker of films like Anupama, Satyakam, Anand, Abhimaan and Namak Haraam was fighting for survival in a harsh, crassly commercialised movie industry.
The value of Mukherjee's oeuvre stems from the fact that it has a rightful umbilical connection with the golden era of Hindi cinema, a heady period during which filmmakers of the quality of Bimal Roy, Guru Dutt and Raj Kapoor, among numerous others, crafted heartfelt narratives driven as much by the need to entertain the paying public as by an unwavering commitment to artistic integrity.
Mukherjee was a worthy successor. Beginning his Mumbai stint as an assistant to Bimal Roy, he edited memorable films like Do Bigha Zameen and Madhumati before branching out as an independent director.
His training stood him in good stead: he garnered critical acclaim and commercial success in equal measure, from the Raj Kapoor-Nutan starrer Anari in the late 1950s all the way up to the delightful Khubsoorat, which gave Rekha an all-new avatar in 1980.
Although Mukherjee made his last feature, Jhooth Bole Kauwa Kaate, in 1998 and after a long hiatus at that, the ailing editor-writer-director, as a representative of a stream of filmmaking that, in the 1970s, wedded creative integrity with commercial viability, he continued to be a role model for a handful of committed acolytes.
Mukherjee's contribution to the evolution of Hindi cinema rests on a body of work that provided intelligent entertainment, exuded emotional energy and rested on strong but genteel thematic substance.
His first assignment as an independent director, Musafir, made in 1957, saw him collaborating with the likes of Ritwik Ghatak and Salil Choudhury. Mukherjee's early mentors and associates were enormously gifted individuals who left an indelible mark on his creative vision.
Mukherjee followed up his first box office hit, Anari, with the rousing triumph with two critically acclaimed heroine-oriented films – Anuradha and Anupama — at a time when male stars dominated Hindi films almost completely.
Anuradha and Anupama are the high watermarks of his illustrious career although he went on to achieve much else in subsequent years. The former was a brilliantly edited but conventionally sentimental reworking of Madame Bovary with accomplished performances from Leela Naidu as a successful dancer who gives up her thriving career for marriage, and Balraj Sahni in the role of an idealistic rural doctor.
Anupama, a well-crafted psychological drama, dealt with a guilt-ridden woman (Sharmila Tagore) who is constantly made to feel responsible for the fact that her mother died while giving birth to her. The sympathy of a sensitive writer, played by he-man Dharmendra in a clear break from his screen image, helps her emerge from her emotional trough.
Mukherjee, whose cinematic output includes powerful social dramas, intense family melodramas and wonderfully modulated comedies, has always had a way with actors, both male and female. Some of the best performances delivered by megastar Amitabh Bachchan have been in films directed by Mukherjee – Abhimaan, Alaap and Bemisaal, among others.
It is unanimously believed that the finest performance of Dharmendra's career was in Mukherjee Satyakaam, which, unfortunately, failed to ignite at the box office. That forced him to gravitate towards a more popular genre – comedy. But here, too, he achieved unprecedented success with films like Guddi, Bawarchi, Chupke Chupke, Khubsoorat and Golmaal.
Mukherjee's principal strength lay in the fact that he had made films for an audience without ever selling his soul. All through his four decades long career, Mukherjee made films strictly on his own terms. He was none the worse for it.
Young contemporary Mumbai filmmakers seeking a way out of the morass of profit-driven, gloss-wrapped mediocrity have much to imbibe from the spirit of Mukherjee's low-budget, high-impact cinema.
Mukherjee belonged to an era when popular Hindi cinema was like a gentle, languid boat cruise. Today, Bollywood churns out movies that resemble rollercoaster rides. That is why Hrishikesh Mukherjee will be missed all the more.