BABY BRANDS BLOOM
The baby-to-be has emerged as a great unborn consumer with fond mum-to-be choosing the best of branded stuff and even making a trip to Singapore if need be, says Parbina Rashid
There was a time when buying stuff for a baby before it arrived was an absolute no-no. And when the baby does arrive, the mother would wrap it up in a hurriedly stitched tunic made out of a piece of cloth collected from a gurdwara or a temple. And then there were days when one would get to know about the new arrival by deciphering the sign of a young shy bride knitting a small pair of woolen shocks. But take a look at the Gen Next mothers-to-be.
CRADLE SNATCHER: Baby malls are offering a wide arrey of products. — Photo by Malkiat Singh
Destructive Chewing
Dr Jaspreet Singh
Chewing is essential for maintaining the health of pet's teeth, jaws, and gums. Puppies especially have a strong need to chew to relieve the irritation and inflammation of teething. Essentially, a pup's approach to all items in his environment is "can I chew it?" Dogs chew to relieve anxiety and boredom, as well as for entertainment. Your dog's jaws are his tools for investigating its surroundings.

World's first radio station
Tuning-in with Hardeep S. Chandpuri
Nowadays, it is the in-thing to talk about radio, it's bright future, the high demand for Radio Jockey's, the money to be made and so on and so forth. But, have we ever tried to figure out the origins of the first ever radio station in the world. No worries…..I'll do that for you, today.
To teacher with love
So many little scholars are drawing up greeting cards and buying gifts for their tutors on the Teacher's Day without even knowing the occasion's significance, says Saurabh Malik
He still has to mug up the lesson about the country's second President Dr Sarvepalli Radhakrishnan. And his class instructor hasn't told Dhruv Sharma that the former academician's birthday on September 5 is celebrated across India as the Teachers' Day. Ask the seven-year-old class II student staying in Sector 38-West about the day's significance and he blabbers: "It's that time of the year when the teachers ask you to paint cards for them; and the boys studying in big classes come to teach you for a day." Nothing less, nothing more!
MATKA CHOWK
Keep Right
Sreedhara Bhasin
I was stopped the other day by two Chandigarh traffic policemen. My crime – not stopping at a yellow light. They were rightfully doing their duty. As a driver of a vehicle, you are indeed supposed to stop when the light turns yellow. After living in Chandigarh, for almost two years, my obedience to driving rules has lost its assiduousness. I have assumed that anything can happen on a fine Chandigarh morning!
FUN WITH FASHION
Hurrah for the hot Kurtis
Anandita Gupta


As we celebrate the slight nip in the air, thanks to the benevolent splashes of the refreshing rain showers, it's time again to pack off those slinky spaghettis. No wonder, many of you may be throwing in some snug sweatshirts into your wardrobe already, having tucked away your summery stuff in your bed boxes. However, don't toss out this fall's kurtis and tunics…hold on to this chic stuff as it still commands the trend. Moreover, these hip uppers can keep you snug, besides notching up your stylo-metres. So here's how to look snazzy, yet feel snug, by going in for some of your summer-ware, in a style that's not so summerish. Rajesh Khanna made it a craze in the 70's and now it's Shahrukh showing off his torso in it's tansy avtaar. Back with a bang, yes, but in it's new-age reincarnation, which is not just chic, but very comfy.
Raga of Gems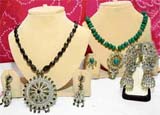 Gayatri Rajwade
Draped in a mithai pink bandhini sari, jewellery designer, Shruti Kapoor is bustling amidst customers showing of her creative ware. What makes her exhibition of antique Victorian silver jewellery unique is that the pieces have been crafted out of a "natural flair" for jewellery design without any formal training in the field. The result is her own collection 'Raga' which she began a mere six months ago and is on display at Hotel Aroma. With the prices ranging between an affordable Rs 500 to an extravagant 12,000, there is something here to suit all budgets.
Small town boy


Swapnil Ramteke, known as 'Apna Amitabh' in his hometown Warthi, near Nagpur, has been short listed for the Super Stars, a reality show. Swapnil's passion towards acting has driven him all the way to Mumbai. With confidence in his heart and determination in his mind, Swapnil is all set to prove his talent to the world. Swapnil is a man of few words here in conversation with his short listed Super Stars contestant, who presently is being groomed in Mumbai for the heat of super stars. The show goes on air from September 11 at 10 pm Monday-Thursday on Sahara One.
WRITE TO RENEE
Friendship needs nurturing
Dear Renee, I have recently separated from my husband and after two whole years of procrastination, have just about gathered the guts to start a new business. Most of my friends have been very discouraging as they feel that career prospects are very limited in our part of the world, specially in these areas and somehow this is a customer oriented business and is not considered very dignified for a woman. I definitely need some motivation to carry on as I feel I need the income as well as the distraction. I also feel for my own personal growth, it would be good to be in a client-oriented job rather then waste my time in idle gossip. Please guide me on how to deal with the situation and feel enthusiastic about it.
---