Packaged prospects
Packaging and printing is a field packed with colourful possibilities, writes Sunit Dhawan
If you want to understand the significance of packaging, just remember that bright coloured pill that you took out from an attractive covering before popping it into your mouth. Or recall the instance when you were tempted to buy a tetra pack of juice just because of its eye-catching packaging. Or simply take into account the way in which the makers of confectionery items entice children into becoming loyal consumers by packing their products in glowing wrappers with vibrant colours.



Course chat
'Packaging a promising career'
The packaging technology course is designed to meet the growing need for skilled manpower in this field,

says Prof B.K.Kuthiala, Chairman, Department of Journalism and Mass Communication, Kurukshetra University, Kurukshetra.
Excerpts from an interview:
How do you visualise the growth of the packaging sector in the coming years?
Thanks to its universal applicability, the packaging sector is set to witness phenomenal growth in the years to come. Every consumable article needs to be packaged today. With industrial units for manufacturing consumer and industrial products cropping up practically everyday, there is a great demand for packaging professionals. Prof B.K.Kuthiala

Careercature
Sandeep Joshi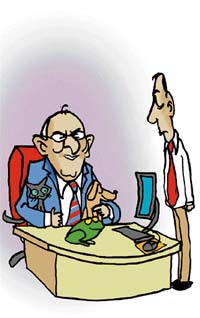 Apart from your regular work, your duties would include taking my dog for a walk, feeding my cat and bathing my frog.

Bits & bytes
Convergys wins HR Excellence Award
Convergys Corporation has been conferred the HR Excellence Award by The Amity International Business School during its third Global HR Summit. Convergys was selected for the award after an in-depth study of 500 global companies, who had impacted the Indian economy.


Create a winning resume
R.C. Sharma
Tracking down the right job is rarely a chance. It requires a lot of hard work and good planning. The first and foremost point in searching your desired job is the drafting of an appropriate curriculum vitae (CV) or resume.


Smart Skills
Jungle approach
Usha Albuquerque
Forests are among our most important natural resources, and contribute significantly to our economic development. Not only do forests enhance the quality of our environment, they provide firewood, timber, fodder, and a number of industrial raw materials. With news stories on the hunting down of tigers, poor habitation of many animals in the wilds and the depletion of the forest areas, there is a greater urgency for many more committed professionals to maintain and regenerate the forest resources.


Career Hotline
Calculated move
Pervin Malhotra
Q I have completed M. Sc (Maths) and B. Ed and have been working in the DAV Public School for five years. I want to teach in the USA as a maths teacher. But I don't know how and where to apply for a teacher's post. Please let me know the full procedure.