Laser as a cosmetic tool
Dr S.S. Verma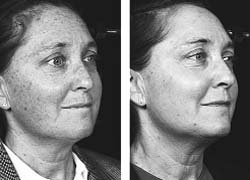 Before (left) and after the use of laser cosmetic procedure
LASERS are everywhere nowadays. With many growing applications lasers are being used to beautify human body as well. From removing warts, unwanted hair, spider vein from legs and face, to skin resurfacing, cosmetic lasers have become a popular and reliable piece of medical equipment in today's high-tech age. Laser Cosmetics technology i.e., "the future of cosmetics" is safe, effective and affordable can give great looking skin with no-downtime, incision and surgical scar.
Each of the letters in laser actually stands for a word as Light Amplification by the Stimulated Emission of Radiation. Lasers are a kind of light different than other light having special qualities like: it comes in one colour, it comes in a thin beam, it can be made very intense or not intense at all and it can be focused to a tiny spot. So lasers are special because they allow us to control light in new and important ways.
In health sciences, the laser scalpel is used for laser vision correction and other surgical techniques. Lasers are used in photobiomodulation (laser therapy), in acupuncture, in dentistry for caries removal, endodontic/periodontic procedures, as well as tooth whitening and oral surgery procedures.
Lasers are also used for dermatological procedures, including removal of tattoos, birthmarks, and hair.
The pinpoint beam of a laser can focus precisely on a target and make highly delicate incisions. This new-found precision achieved by using lasers has drastically changed modern medicine. High precision operations are now made possible thanks to lasers.
These days, everybody's worry is to look younger and more attractive, but how to go about it. One can live a healthy lifestyle — drink plenty of water, eat a diet of grapefruit and raw fish, and spend two hours a day practicing yoga. Or — for some it's and — there are always cosmetic procedures. With the advancement of Laser technology, more and more of those fixer-uppers are being performed with lasers rather than plastic surgery, creams or chemicals. No longer are lasers a wave of the future. They can offer faster and less painful alternatives to the old methods, with less recovery time, to boot.
According to a study in US, cosmetic laser and light treatments are the most common reason women in the U.S. visit dermatologists and the second-most common reason for men, after skin cancer treatments. Lasers are the standard way of treating beauty now.
Removing red birthmarks known as Port-Wine stains was one of the first applications of laser technology to medicine. In laser skin resurfacing a laser is used to remove areas of damaged or wrinkled skin, layer by layer. The procedure is most commonly used to minimise the appearance of fine lines, especially around the mouth and the eyes. However, it is also effective in treating facial scars or areas of uneven pigmentation. Laser resurfacing may be performed on the whole face or in specific regions. Often, the procedure is done in conjunction with another cosmetic operation, such as a facelift or eyelid surgery.
Though everything has risk, lasers tend to be pretty safe, are non-invasive, and about 80% to 90% of patients see dramatic improvement.
Lasers have really captured the public's imagination, so people tend to think lasers can do miracles. Unfortunately, easy beauty doesn't come cheap; nor are the results always immediate. Many people do not see dramatic results until they have had a few treatments and cost depends upon the procedure.
Just as results from laser treatments vary from patient to patient, there can also be pain associated with certain treatments, as well as possible sideeffects, including short-term redness, burning and even hyper-pigmentation. The main key is choosing a trained professional who knows how to analyse each patient's type of skin.
With technology changing so quickly, we never know if a new laser will be created to make lasers error-free and the beauty-in-a-flash treatment will become cheaper and painless without any sideeffects. Experts say the field is constantly progressing, and they project that the next phase of cosmetic laser treatments will tackle even cellulite and fat reduction.
The writer is from Department of Physics, S.L.I.E.T., Longowal