Baddi on a roll
Extension of industrial package has erased the slump, reports Ambika Sharma
The extension of the industrial package has come as a welcome sign to the realtors in the industrial hub of Baddi-Barotiwala-Nalagarh in Solan district. The package, which was to expire in March 2007, has now been extended by four years.



The rates, which were down by 15 per cent, have started picking up. Construction activity, too, is on the rise. — Tribune photo by Parvesh Chauhan

Hoteliers check in
The industrial growth story of Himachal Pradesh had so far failed to attract the hospitality sector. But the wait might not last too long for the industrialists in the boom town as Baddi has finally caught the eye of the hotel industry. From Tatas to the Escorts Group — everyone seems to have discovered the Baddi- Barotiwala belt. As of date, those visiting the mammoth factories, which have come up in the belt, have no option but to travel down to Panchkula or Chandigarh.



—Illustration by Aditi Chahar

Property prices go down as road gets elevated
The proposed elevated road, which has brought into focus a major developmental project to decongest the city and pave way for thousands of devotees for easy access to the holiest of the shrines, Golden Temple, has dampened the property prices on G T Road.


Municipal Commissioner K.S. Kang explains the elevated road model to Capt Amarinder Singh in Amritsar. — Tribune photo by Rajiv Sharma
Ansals get nod for SEZs
Ansal API, a real estate developer of Delhi, has got the formal approval from the Haryana government to set up new single product engineering-based industrial Special Economic Zone (SEZ) at Murthal. Ansal would invest around Rs 800 crore.


Housing needs escalate in India, Pakistan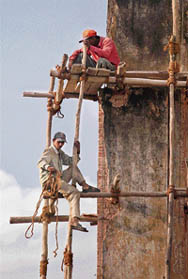 Construction workers prepare scaffolding on a soon-to-be renovated building in New Delhi. Though India's $775 billion economy expanded 9.3 per cent from a year earlier, yet the urban housing shortfall in India is being calculated at some 7.6 million units, of which approximately three quarters represent replacement and upgrading needs, with sharing of a dwelling accounting for the balance. — AFP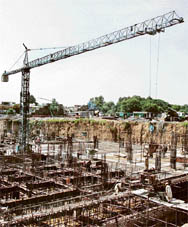 Pakistani labourers use a crane as they work on the construction of luxury apartments in Islamabad. Pakistan's current housing shortfall is projected at 6.19 million units, according to the Ministry of Finance. It is estimated that to address the backlog and to meet the housing shortfall in the next 20 years the overall housing production has to be increased to 5 lakh housing units annually. — AFP
Andhra makes a move to restore Charminar's glory
Creation of buffer zone hits traders, says Ramesh Kandula
The majestic Charminar is the centre of the historic old city of Hyderabad. Built by Muhammad Quli Qutb Shah in 1591 to commemorate the eradication of plague, the heritage structure has over the years turned into a traffic island.
Hedge your bets on privacy
A green screen does the same to a garden as a frame to a photograph, says Satish Narula
No amount of concrete can provide the same desired effect for privacy that a green plant hedge can give.
Family land goes commercial
In a rush to build shops, offices and houses worthy of a thriving economy, a new elite is emerging in India — young men asked to turn plots of family land into a property business.
TAX tips
Wealth tax applicable on assets over Rs 15 lakh
Q I own nearly one acre of land within the municipal area of Jalandhar, the market value of which has gone up tremendously on account of spurt in the real estate prices. The approximate value, thereof, as per the property brokers is not less than Rs 50 lakh. I have been told by someone that I am required to pay wealth tax on the aforesaid property. Is it correct? If so, am I supposed to file return also?
Buzz on Bourses
Morgan raises $2.24 b
New York: Morgan Stanley Real Estate, a division of investment bank Morgan Stanley said its Special Situations Fund III has raised $2.24 billion of equity to invest primarily in real estate debt and equity securities around the world.
Demolitions prop rentals in Gurgaon
Licensed areas are witnessing rush, says Ravi S. Singh
The pressure mounted by the district authorities on shops and commercial activities run at unauthorised places in Gurgaon, coupled with the Supreme Court's firm directive against shops at residential places in the bordering state of Delhi, has put pressure on the price line of commercial sites in this city.
Tithwal resurrected
Army constructed homes after October 8 quake, says Ehsaan Fazili
Tithwal, a small picturesque hamlet, located on the banks of Kishanganga river in Tangdhar bowl of Karnah in Kupwara district of north Kashmir, was one of the most affected villages due to earthquake on October 8 last year.


A buyer's market soon
The Indian real estate market is likely to witness a 15 to 20 per cent drop in prices of residential space in Tier I cities over next one year where the prices have gone up rapidly during last 12 months, according to industry experts. "We expect that there will be a price correction of 15-20 per cent in the residential segments in over-heated markets like metros during next 12 months," Ernst and Young- Head real estate practice Ganesh Raj said at Indo-US Economic summit. Illustration by Gaurav Sood
US firm to invest
Aiming to cash in on the bullish Indian realty space, US-based real estate company Hines plans to invest over $300 million (Rs 1,300 crore) over the next five years to develop projects in association with local partners.