Punjabi antenna
Anchors' antics
Randeep Wadehra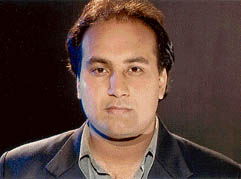 Ritesh Lakhi speaks with maturity and élan in his talk shows
Interviews on television are much more than Q & A sessions. These have to be fashioned in such a manner that the person interviewed is revealed in full — warts and all. This involves optimum application of the head and the heart. Diligent research and formulation of right questions form the basis of the interview. The other part involves the d`E9cor, the tone of conversation, timing of interjection, and prompting the flow of the conversation to keep it on the right track. And, it is vital to allot appropriate time-length to each question.
Here, one would like to cite the interview with Shiv Singh which was telecast recently on DD Jalandhar. It went well in so far as stock questions were concerned – his childhood, his inspirations, his work, etc. Then he was asked a question that should have been given ample time, viz., what in his view was art? The artist was just warming up to the subject when he was cut short. The time was up. The cerebral gave way to the mundane. One felt cheated.
If you want to know how not to conduct interviews, you must watch Satinder Satti on Zee Punjabi. She misses no opportunity to showcase herself, often reducing guests to mere spectators. When a guest has uttered a few words in reply to her question, Satti interrupts with a verse or a high-brow comment. She hijacks the talk show by articulating — if that is the right word — the guest's unspoken thoughts. The guest probably is left wondering why he was invited at all.
Till some time back MH1 used to telecast a magazine Rang Punjab De. Its interview segment was quite interesting. Kamaldeep would keep her questions to the point and allow the guest full say on the subject. Her interference used to be minimal — a hint here and a nudge there to prevent digressions. She would then steer the talk to its logical conclusion. She has the potential to be an ideal anchor, moderator and conversationalist on the telly.
Right now Ritesh Lakhi appears to be by far the most successful moderator and anchor on Punjabi television. Whether he is conducting middle-brow talk show like Khabarsaar or doing one-to-one interviews, his maturity and `E9lan manifest themselves. One still remembers his interview with Navjot Sidhu wherein he allowed the then BJP candidate to Lok Sabha to give full play to his bluff, bluster and bombast accompanied by his now-notorious finger wagging mannerism. If you are aspiring to be a television anchor, watch Lakhi on Zee Punjabi more often. He could be the role model you were looking for.