More and more women are picking up their bags to go for a vacation on their own, says Gagandeep Kaur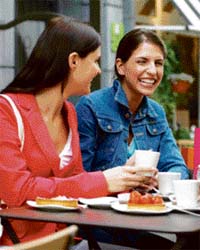 WOMEN'S DAYS OUT: A break from humdrum life
The travel bug has bitten the urban woman. A sign of increasing women mobility and emancipation, more and more women are travelling alone or in groups to visit exotic locales overseas or within the country.
"There has been a substantial increase in the number of women travellers. Around 1 per cent of the total 6 million outbound travellers from India are women now. Earlier this category was virtually nonexistent, but now we feel that it is one of the fastest growing categories," said Subhash Goyal, President of the Indian Association of Tour Operators (IATO).
Earlier, the issue of safety and security restricted women from travelling alone. Also, there was a mindset that women cannot travel alone. This way of thinking is being changed by urban Indian women, who have no qualms about travelling alone or in groups. A major factor which is encouraging this trend is a decrease in the cost of air travel, which is considered safer than rail or road travel in the country.
"Initially I was a little anxious about travelling alone and I would restrict my travel only to my hometown in UP and back to my worktown in Delhi. But when my friends decided to go to a rafting holiday to Rishikesh, I didn't want to miss it. Now in the last two years, I have travelled to Ladakh, Munnar and Shimla with my women friends. However, I must say that an all-women group still attracts attention and one has to follow a number of dos and don'ts for safe travel," says 28-year old, Sunita Chabbria, who is working in a Delhi-based fashion house.
There are tour operators catering specifically to the needs of the women. The trips are organised by and for women travellers. No husbands or partners are allowed on such trips.
"Basically such tours are for solo women travellers, but in a group situation, safety and security are top priorities. Apart from urban women living in cities like Delhi, Mumbai, Hyderabad, Chennai and Bangalore, women from places like Surat, Ahmedabad, Allahabad, Indore, Lucknow and Mangalore have also contacted such tour operators. They are in the age group of 20 to 55 and are in various professions, such as law, investment banking, teaching, corporate executives, techies, government employees, HR, BPOs, doctors, dentists, trainers, self-employed and homemakers and retired citizens. Their marital status is a mix of single, married, divorced and widowed," says a travel writer who runs one such travel agency. Unlike other tour operators, this writer travels with the group to ensure that nothing goes wrong.
"It took some time to convince my husband that I don't get any break when I travel with my kids, aged seven and four years, since I am looking after them most of the time. For him, security was the main issue and also the mindset that he had never heard women travelling alone for fun. But finally we both decided to give it a try. My mother-in-law came for some days and I went to Darjeeling for 10 days with another friend. It helped that we stayed in an Army mess. It gave me the biggest kick of my life," says 34-year-old Delhi-based housewife Sanjana Sen.
Women travellers are generally finicky about their accommodation and ask a lot of questions about their security and safety. "They also have hang-ups about the other women travelling in the group. They like to ask about the other women travelling in the trip. They wonder whether they would get along with the others. They also ask a lot of questions regarding the destination, details of tourist attractions, the weather, what type of clothes to take, how much of foreign currency is required, etc. However, it is interesting to note that no ice-breakers are required — women talk easily — the moment they see each other," says a tour operator. However, major tour operators have not started offering any specific scheme for women travellers. This indicates that though the number of women travellers is increasing, it is still miniscule, but not insignificant.
A recent study by Mastercard International revealed that of the 139 million travellers in the Asia-Pacific region, 56 million or 40 per cent of them are women. Keeping this in mind, leading hotel chains have dedicated floors or wings for their female guests travelling alone or in groups.