How safe are our young sportsmen?
Recent findings on injuries on playfields in India show that about 5 per cent of all students are seriously hurt during physical education every year. Is there a system in place in Punjab, known for its sports-friendly culture, to ensure timely medical aid in the event of an emergency or near-fatal injury, investigates Prabhjot Singh
When 17-year-old Balwinder Singh went to the MES Cricket ground in Patiala on July 30, he could hardly imagine that the bold endeavour to master rising deliveries as a batsman would prove fatal. An unintended beamer for this helmetless batsman proved catastrophic.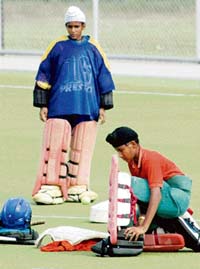 Protective gear that a hockey goalkeeper should use for safety. — Photos by Parvesh Chauhan
Another tragic incident that comes to the mind is of a teenager, Deep Dogra, who could not take a hockey blow on his temporal while tackling an opponent at Surjit Hockey Stadium, Jalandhar, in October 2004. Like Balwinder, Deep was also the only son of his parents. These tragedies occurred when the victims were practising.
Many boys and girls of their age get into the playfields running and jumping. A substantial number hobbles back with contusions, abrasions, muscle or joint sprains, and fractures. Fortunately, fatal ones are rare.
If one looks back, it is not only cricket or hockey, but other sports, too, while playing which sportsmen have fatal accidents. Boxing, for example, was suspended from the inter-college curriculum of Panjab University after a fresher from Lajpat Rai Memorial College, Jagraon, died during the university championship in the early 1990s. It was not the only fatal boxing incident reported from PU.
Sporting injuries
In the early 1980s, another newcomer, son of an ex-serviceman, representing Bhopal University, also died following injuries incurred during an Inter-University bout on the Chandigarh campus. Of all sports, says Journal of Combative Sports, boxing has the highest fatalities. Between 1920 and 2002, this sport claimed 1,101 lives, including those of some top professional boxers.
Swimming and diving, mountaineering and skiing are other sports which also record a high percentage of serious and fatal injuries. Cricket, like hockey, also has its own list of fatal and near-fatal injuries. One is reminded of former Indian Test cricketer Raman Lamba, who died after being hit on the head while fielding at forward short leg in Bangladesh in 1998.
Another tragic incident of 1962 must still be fresh in the minds of Indian cricket fans. Test opener and skipper Nari Contractor's playing career was cut short when he was struck on the skull by a short delivery from speedster Charlie Griffith in Barbados in tourist's colony game against Barbados.
According to recent findings on injuries on playfields in India, about 5 per cent of all young sportsmen are seriously injured during physical education every year. Because of its influence on the attitude toward sports, various studies on evaluation of causes and medical consequences have been carried out.
Common injuries
These studies suggest that the average age of injured youngsters was 13. Most youngsters blamed themselves for playfield accidents. The most common injuries were sprains, contusions and fractures. The main reasons for the accidents were faults in basic motion training. Track and field, hockey, soccer, basketball and boxing were the most frequent reasons for injuries. The upper extremity was more frequently involved than the lower extremity.
Injuries can be broadly classified into two categories: Those which are reported during training and others which players get during competitions.
An aspect brought out by recent studies is the growing speed in ball games like cricket, hockey and tennis. Introduction of artificial surfaces coupled with use of synthetic equipment like sticks, racquets and balls may have added to the speed of the ball. This has also made the players vulnerable not only to serious injuries but also cut down their playing careers.
More vulnerable
Studies have proved that playing hockey on an artificial surface shortens the playing career of a sportsman as compared to those who play on natural surface.
A semblance of first aid or medicare is available on playfields during important competitions. But when one looks at the playfield facilities in schools, colleges, universities and coaching centres run either by the State (Education or Sports Department) or the Central Government (Sports Authority of India), one does not find even rudiments of healthcare.
Money earmarked for physical fitness and good health of players is not even one per cent of the total sports budget of either the Central or state governments.
The earlier practice of naming a PT or NDS Instructor or NCC officer/Scouts Guide Instructor as Head of First-Aid Cell in educational institutions has been discontinued. Many institutions do not have even the basic medicines, like pain-killers, pain-relieving sprays, gauze, cotton, bandaids and crepe bandage.
Timely aid
In a glaring incident reported from Government College for Women, Ludhiana, in the late 1970s, a promising hockey player, Amarjit Gill, daughter of Dr S.S. Gill, who retired as a Physical Education teacher from Panjab University, lost her eye after the hockey stick of one of her team-mates struck her in the face during a practice session. In the absence of any first aid or immediate health assistance available at the ground, her treatment could start only a few hours later as no transport was available in the college at the time of the accident. This gap—between the actual injury and the start of medical treatment—is crucial.
Sometimes, even available medicare facilities on the ground are not enough. Some years ago, Satnam Singh, a hockey player from the Border Security Force, slipped on the old and worn out synthetic surface of the Sector 42 Hockey Stadium while playing in the All-India Gurmit Memorial Hockey Tournament in Chandigarh. He received a head injury after a nasty fall.
Though he was rushed to the PGI, he could not be attended to by a neurologist for almost 12 hours. This delay proved costly. Not only was his playing career cut short but he was also rendered paralytic for life.
In a similar incident reported from the same worn out synthetic surface of the Sector 42 Hockey Stadium, young Ramanvir Grewal, son of former international and national coach, Sukhvir Grewal, also received a serious head injury. But since Sukhvir was present on the ground, supervising the training of his son, he rushed him to a private hospital, got him examined by a neurologist to prevent aggravation..
Intriguingly, not many sports physicians and teachers have worked out any programmes outlining individual needs and capabilities of the injured students to reintegrate them into physical education, the studies said.
These accidental injuries apart, there are other common sports injuries which are primarily caused because of physiological or metabolic disorders. Many playing careers are cut short in sports because of tennis elbow. Hamstrings, pulled muscles and heat-related illnesses are preventable if coaches and players take precautions about limiting workouts on hot, humid days and keeping themselves well-hydrated. Marathoner Jarnail Singh had died of dehydration while on the run.
Between the end of annual exams and the start of the new session, it is the time when children keen on sports get out of shape. They return to the playfield with weakened muscles. That's a recipe for muscle strains, sprained joints and bone fractures. Children, especially in urban areas, do not assist parents in the common household chores any more. These days not many pedal their way to schools and come back to playfields on their bicycles for evening activity. Bicycles have paved the way either for motorised vehicles and school buses. Its adverse effect on the physical well-being of children has been the subject of many studies. More and more cases of obesity are reported these days.
If your child is going for basketball, cricket, football or hockey, you must ensure that he or she is physically ready to take the load for every sport. Specialists say, there are steps that parents, players and coaches must take to improve the odds of a safe season.
We have discontinued compulsory Physical Training (PT) in the morning assembly. Even the annual National Physical Efficiency Test (NPET), which should be a must for every school going child, has been discontinued. Every child and teen needs a physical exam every year, even if the school doesn't require one, to be sure they're fit to play organised sports. A good exam can highlight strengths and weaknesses that might make one sport a better fit than another.
Core strength
It also may turn up warning signs of serious problems, such as whether a player is at risk for heartbeat irregularities that can cause sudden cardiac arrest, a very rare occurrence, but one that health authorities warn is a leading cause of death in young and even old athletes. A tragic incident reported from Chandigarh's Lake Club Tennis Court must be fresh in the minds of sports lovers when a senior bureaucrat, P.D. Vashisth, died of a massive heart attack during a break in his regular evening game. Physical fitness experts also point out that if the abdominal and thigh muscles are not strong enough—what is known as the "core strength"—then players of any sport overuse their other muscles, leading to strains, sprains and fractures.
A common sport injury is nicknamed Little League shoulder, in which young cricketers or other game players get tiny fractures of the growth plate near the shoulder because they didn't have proper support for their throwing arm.
Another is the notoriously painful torn knee ligament called the ACL, or anterior curiae ligament, common in any sport with a lot of twisting, jumping or pivoting—basketball, football, hockey and volleyball.
It's more common in female athletes than males because they tend to bend their knees more as they jump and land, better for shock absorption. Also, females typically have weaker hamstrings, muscles at the back of the thigh that relieve stress on the ACL when the knee bends—something more of that core conditioning can help.
Safety rules
All playing and training centres in schools, colleges, universities or the departments should have an emergency plan for serious injuries. Coaches or other team professionals should be trained in first aid. "Who will provide first aid and call an ambulance? How will parents be notified?" are other areas which need to be assigned to someone associated with sports training.
The Education and Sports Department, which have the basic duty of organising sports, should have certified or qualified athletic trainers who are trained in the prevention, immediate care and rehabilitation of sports injuries.
An important area is the availability of safety equipment and whether it is properly fitted and maintained. Now a child playing hockey needs so much of protective gear while donning the goalkeepers' position or those defending a penalty corner against high-speed drag flicks.
The same is now true of cricket where protective gear has become a must for batsmen against fast, moving and rising balls. Even those fielding at close-in positions have to wear protective gear. It becomes the duty of the trainer, coach or physical education teacher to ensure that players have the perfectly fitted protective gear to minimise chances of injuries.
Expert advice
Some suggestions made by physical fitness trainers to minimise the incidence of accidental injuries on playfields:
Children should be supervised at all times while on the playing field.
Athletes should always warm up before practice or play, cool down and stretch afterward, and take regular rest and water breaks.
To avoid overuse injuries, players should not participate in more than one sports team at one time.

Special attention for basic care
Olympian Pargat Singh, Director Sports, Punjab, outlines the department's plans for better healthcare to youngsters
Growing incidence of injuries on playfields is a major area of concern for us. The country in general and Punjab in particular have lost the services of a number of outstanding sportsmen and women because of crippling injuries incurred either during training or even during competitions. It is unfortunate that we lost young Balwinder Singh in July this year and Deep Dogra a couple of years ago. Both were budding, talented sportsmen.
Though not much attention was paid to sports medicine and provision of basic first-aid facilities at playfields in the past, we have taken a number of steps to ensure the health of our players. For example, we are going in for group insurance of all boys and girls who are training at our academies or coaching centres throughout the state. We are negotiating with various insurance companies for a comprehensive group general health insurance of our athletes. The state will pay the premium and subsequent instalments. Each athlete would be ensured for a minimum of Rs 1 lakh each.
We also intend to set up Sports Medicine Boards at each district headquarters comprising a neurologist, orthopaedic surgeon, and physiotherapist. In case of an emergency, any of our trainees shall be attended to by members of the District Sports Medicine Board on priority.
The Sports Department is also getting in touch with the Health Department so that doctors are available on call in case of an emergency on a playfield. At each of our coaching centres, academies and wings, the telephone numbers of doctors, physiotherapists and rehabilitation medicine specialists would be displayed so that trainers, coaches, players or their parents can contact them for immediate medical attention in case of any contingency. We are writing to the Punjab Olympic Association and other state sports associations to ensure that whenever they organise a championship or competition, they must ensure that a team of doctors or first-aid experts is available on the playfield or at the venue of competition. Besides, provision of an ambulance at the venue of competitions is also being stressed on new set of guidelines which are being circulated to organisers of all tournaments in the state. The Department will make an effort to get doctors with the knowledge of sports and sports injuries associated with its coaching schemes so that their expert advice is available to the trainees and trainers at all times.