QUEEN SIZE
The Patiala Shahi salwar is now a favourite with many a Punjaban,
says Simran Dhatt
Any trip to Chandigarh by my Pakistani or Andhra aunts means they will get piles and piles of suites stitched. So whenever I take them to one of the local boutiques their request for a heavy Patiala salwar comes up. When they learn that it will take all of four meters of fabric to stitch one, they say: "What? Four meters! Back home I can get a suit stitched in four meters." Then I have to explain to them, "Auntyji relax! Now that you are in Punjab learn to live life King size. Oh Sorry! Queen size."



WELL-DRAPED: Girls in their favourite salwars on the Punjabi University campus.
— Photo by Rajesh Sachar

Down Darzianwali Gali
Anuradha Shukla
Go down Darzianwali Gali in the busy Adalat Bazaar and one can hear of the royal legacy from the tailor's if not the horse's mouth. The gali came up to be well within the reach of the maharanis living in their early residence in Quila Mubarak. Ladies of the Patiala royal family may have moved on to their favourite tailors and boutiques but the tailors here still have memories of the master tailors Santokh Singh and Pritam Singh, who not only stitched for the royal family but also gave the Patiala Salwar its contemporary look.


MASTERJI: Tailor who shaped the Patiala salwar, Dalip Singh







Dream Garage
This Silicon-savvy couple began their success story from their own garage in the city, says Anuradha Shukla
Puneet Vatsayan and his better half Anupama Arya, directors of Mobera Systems Private Limited have lived their dreams while working in the Silicon valley for fourteen years and their decision to come back to their roots is yet another story of success.

TOGETHER IN SUCCESS: Puneet Vatsayan and Anupama Arya.
— Photo by Vinay Malik

With love — from Bollywood
Smriti Sharma
They came and they went off like a whiff of fresh air leaving a mark on everyone present with their demeanor. Yes friends the city seems to be awestruck these days with stars and more stars descending here almost every day now. We are referring to the trio— Nakul Vaid,Parvin Dabas and Preeti Jhangiani, stars of an upcoming Bollywood flick, With Love.... Tumhara.

Phone forward
Upwardly mobile youngsters linked to excitement, and the world, through cell-phones have so much more to hear in the coming few days! And it's not just additional caller tunes of hit Bollywood flicks like Collaboration that the cell-phone operators are promising. For so many youngsters living life gorgeously on the fast track of exhilaration with high-tech cell-phones practically glued to their tender hands, the buzz is that the operators are right away getting connected to "enhanced data transfer" service.


"MAIN HOON AMEEN SAYANI ….."
Tuning-in with Hardeep S. Chandpuri
Rightly described as the "Golden voice of India", his is a voice that still lives in the hearts of millions of Indians, a voice that revolutionised radio programming, a voice that still has a freshness that is so hard to find nowadays and yes, the owner of this unique voice is the one and only, the great Ameen Sayani.


Saying it all on love
If Pritish Nandi's Ankahee enthralled the audiences with its plot, Pyar Ke Side Effects goes even further. With a film starring an unlikely combination of Mallika Sherawat and Rahul Bose and belonging to the genre of romantic comedy proves adept at tickling the viewer's funny bone. It is Mallika Sherawat who makes perfect use of this romantic comedy. Debutant director Saket Chaudhary has handled the story efficiently.

A scene from Pyar Ke Side Effects

The balancing act
You loved Amir Ali in Ye Kya Ho Raha Hai, produced by Harry Baweja and directed by Hansal Mehta. He went on to win hearts on the small screen as the boy-next-door when he essayed the role of Soumya Prashar in Rajshree Production's famous show Wo Rehne Wali Mehlon Ki.
FUN WITH FASHION
STYLING HONCHOS
Thanks to a plethora of menswear designer brands that have entered the city, men's formal wear is getting trendier, brighter and hipper, says Anandita Gupta
Remember the times when your pa used to flaunt those mundane self – colour shirts and striped ties to all his meetings and office lunches? And equally predictable were his formal social-dos'-wear—A Navy blue or chocolate brown three-piece suit with neatly polished Bata shoes?


Check it out
In our 'flight of fancy' haven't we all been dreaming of wearing designer labels that all those Page 3 people flaunt with oomph? But what brings us back to earth is perhaps the price tag that comes along with the dress. But fellows, rue no more as Chandigarh now has a store which houses all top international brands as the likes of Dollace & Gabbana, Armani Exchange, Ralph Lauren, Guess, Diesel, FCUK, Gap and many more. What comes as a pleasant surprise is the rock bottom prices that the labels are available at. Revealing the truth behind it, Vikas, owner of the store says, "India has become a part of the global manufacturing hub and a lot of International designers are outsourcing their labels from here.
Stage Savvy
S.D. Sharma
An epitome of courage, conviction, intellect and dramatic force, veritably define the persona of Parveen Shekhar, the noted thespian who had been relentlessly engaged in the propagation of the theatrical arts for the last two decades. The amputation of his left arm after a train accident in 1990 was no deterrent for the dedicated artist to impede the spectacles of his dramatic performances.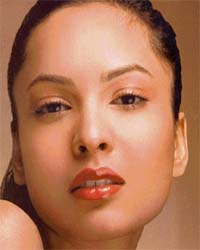 BEAUTY STUDIO
Sharing secrets
Vidya Tikari
There is no business like beauty business. That is for sure because beauty exists on so many planes: inner and outer; philosophical and physical. Go to the thinker and you may hear a la Helen Keller that the best and most beautiful things in the world cannot be seen or even touched. They must be felt with the heart.
MATKA CHOWK
Demolition derby
Sreedhara Bhasin
There is a popular sport in America called Demolition Derby in which old vehicles are raced against one another - the objective of the game being to smash and destroy the old cars. I look around 'old Chandigarh' (an oxymoron since all of Chandigarh is so new) and see construction preceded by a great deal of demolition.
WRITE TO RENEE
Live your passion
I am 21 years old, through with my college and a professional diploma and at the brink of a career situation. But instead of being excited I am completely confused as to what I must do with my life. Nothing in particular seems to motivate me, so I seriously do not know which direction to take.
---