Build a future in
civil engineering
Usha Albuquerque
Seeing the changing skyline, the heaps of bricks and cement, and pages and pages of real estate information, you know this is a country in the throes of change. Everyday we read about new townships coming up, the Metro rail extending its network, and development preparations for the Commonwealth Games in 2010. If there is one career common to all this feverish activity, it is that of civil engineers.


Finland scouting for Indian chefs
M.Karthikeyan
Having decided to roll out the red carpet for Indian tourists, Finlandís tourism industry is racing against time to ensure that the visitors from the tropics feel right at home even while vacationing above the Arctic circle here. With Finnish flag carrier Finnair all set to commence the first direct service between capitals Helsinki and New Delhi starting October 30, the Finnish Tourist Board (FTB) is expecting a rush of visitors and is scouting for a few good Indian chefs who can teach the locals how to entertain the visitorsí palate.
Careercature
Sandeep Joshi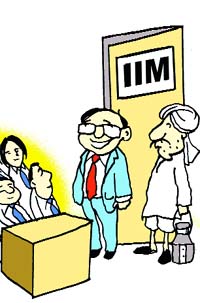 We have now invited carpenters, masons and milkmen to deliver lectures on social binding, concrete planning and mixing skills, respectively.

Bits & bytes
IIT-Kharagpur announces Nina Saxena award
In a bid to encourage and promote technical innovation, the Indian Institute of Technology (IIT), Kharagpur, has announced the Nina Saxena Excellence in Technology Award. The award commemorates the spirit and memory of its illustrious alumna Dr Nina Saxena, B.Tech (Hons.), ECE 1992, who passed away tragically in 2005.


Covering letter of CV is crucial
I.M. Soni
The decision to hire or reject an individual is primarily based on a successful or unsuccessful interview. Yet, many important strategies must be successfully completed prior to the interview stage if a job is to be attained. One such preliminary strategy is writing the covering letter.


Job-seekers ready to go under the scalpel
When it comes to seeking the dream job, personality and good looks for some take an edge over intelligence and self-confidence, for which they are even ready to go under the scalpel. The 'look good' factor is not confined to women only.

Social graces for the workplace
Pamela Eyring, owner and director of a protocol school, has tips for new and long-time workers who might want to brush up on the ways of the workplace.


Career Hotline
Woodcraft as work
Pervin Malhotra
Q I am a student of Class XII and I want to know about furniture designing. Which institutes offer this course and what is the criteria for selection and the scope of this field?