Build a future in
civil engineering
Usha Albuquerque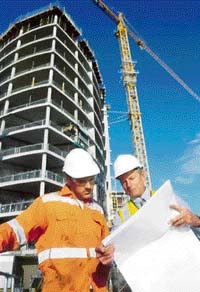 Seeing the changing skyline, the heaps of bricks and cement, and pages and pages of real estate information, you know this is a country in the throes of change. Everyday we read about new townships coming up, the Metro rail extending its network, and development preparations for the Commonwealth Games in 2010. If there is one career common to all this feverish activity, it is that of civil engineers.
It is said that engineers have a hand in the creation of anything in use anywhere. The purpose of engineering is to design and manufacture the hardware of life. Engineers design, manufacture, repair, modify, and construct. From simple bicycles to aeroplanes and rockets, from highways to dams, engineers build everything.
Civil engineers design, plan and execute the construction work for any structure. They are involved in the planning, research, survey and construction of all kinds of buildings, whether it is a house, factory, stadium or airport, as also roads, traffic and transportation systems, irrigation and power plants, water supply and sewage disposal plants, ports and harbours, oil rigs, etc. Civil engineers are mainly responsible for planning and designing a project and having it constructed to the required scale. The new Beijing to Lhasa railway line was built by civil engineers. The gigantic World Trade Towers in New York attacked five years ago on September 11, were also built by civil engineers.
Role & responsibilities
Civil engineers can work at a construction site or as consultants. While the work itself is basically the same, site engineers take responsibility for the actual construction work. The work involves interpreting the architectsí designs, devising an overall plan for the construction of the proposed project, working out the cost of the construction, supervising the feasibility studies, making site investigations and advising clients on materials and contractors for the actual construction. Civil engineers also take responsibility for the accuracy of drawings and quantities of materials required for the project, supervise the work schedule and conduct periodic checks.
Eligibility
To be a civil engineer, you need an engineering degree, preferably in civil or structural engineering. Almost all engineering colleges offer the Bachelorís degree in civil engineering. Engineering courses are available at two levels. There are the degree and postgraduate degree courses offered by the engineering colleges and Institutes of Technology (IITs), and, the diploma courses available at polytechnics.
Candidates who have passed the plus two or equivalent examination with Physics, Chemistry and Mathematics (PCM) are eligible to sit for the entrance test, although some require a minimum of 50 per cent in Class XII.
Testing time
The main competitive exams include:

The Joint Entrance exam of the IITs (IITJEE) for admission to the seven Indian Institutes of Technology (IITs) at Delhi, Mumbai, Chennai, Kharagpur, Kanpur, Roorkee and Guwahati, and the Institute of Technology (BHU) at Varanasi, and the Indian School of Mines.

The All-India Engineering Entrance exam (AIEEE) for admission to the National Institutes of Technology (formerly Regional Engineering Colleges) at places like Kurukshetra, Tiruchirapally, Durgapur, Calicut, Warangal, Srinagar, Surathkal (Karnataka), Rourkela, Hamirpur (H.P.) etc, as well as hundreds of government and private engineering colleges which offer degree courses in civil engineering.

Institutes such as the Birla Institute of Technology, Pilani, Rajasthan, and at Ranchi; Manipal Institute of Technology, Manipal; the Faculty of Engineering and Technology, Annamalai University, among others, also conduct separate entrance examinations.

In addition, there are hundreds of engineering colleges in all states in the country, except for Meghalaya, Manipur, Nagaland, Arunachal Pradesh and Sikkim. Students from these states are accommodated against reserved seats at the NITs at Silchar, Assam, the Tripura Engineering College, and in other engineering colleges of the country.
The three-year diploma in civil engineering is offered by many polytechnics and vocational institutes.

There is also the (AMIE) Associate Membership Examination of the Institute of Engineers that enables working people in the private and public sector, or diploma holders to acquire a Bachelorís degree through distance education, for career advancement.
In addition to academic requirements, civil engineers also need to have a certain intrinsic ability of working with form and structure, and conceptualising design. They must have a facility with numbers, a logical mind, organising ability, practicality, clear headedness, and a capacity to toil and persevere under, what can at some times be trying working conditions.
Civil engineers have to travel to the locations where the construction is happening and they often have to interact with labour. They have to also stay in touch with contractors, architects and town planners while working on their project.
Job prospects
Once qualified, civil engineers can work with large construction companies, such as DLF and UNITECH and work on new urban projects. They can also work with companies undertaking construction projects, such as Larsen and Toubro, BHEL, Delhi Metro Rail Corporation and others. Those looking to specialise in the construction industry can specialise in the area of construction management. The National Institute of Construction Management and Research in Hyderabad, Gurgaon and Pune offers a Postgraduate Diploma in Construction Management, suitable for graduate engineers, as also a programme in Real Estate Development and Management.
Many civil engineers join the government sector, including the railways, municipal corporations, telecommunications departments, and public sector organisations. Many also sit for the Civil Services exam. Even banks and financial organisations take on civil engineers as technical experts.
However, engineering is not so much one career as an expertise which opens doors to a vast range of jobs. Engineers probably have a wider choice of environment in which to work and a greater variety of jobs than is possible in any other profession. Not only are engineers in great demand for technical services, candidates with technical expertise are in great demand for managerial functions too, and in the area of project and production management.
Moreover, an engineer with some experience can set up his / her own small unit / company or consultancy. Be it a small industrial project, electronic business, construction activity, mechanical venture or fabrication activity, civil engineers can perform extremely well in their own business venture.
The writer is a noted
career expert