Young World

Sunil, Poonam, Praveen shine in talent hunt contest
Tribune News Service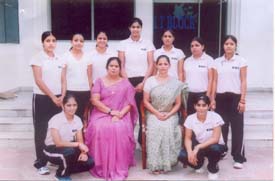 The taekwondo team of Kanya Maha Vidyalaya that won the inter-college tournament held at Guru Nanak Dev University.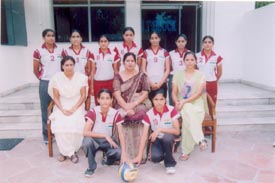 The volleyball team of KMV Collegiate Senior Secondary School which
won the first position in the zonal inter-school matches.
A talent hunt contest was organised at Government Arts and Sports College. Students displayed talents in singing, dancing, poetry recitation, dramatic skills and modeling. Principal, Ms Karamjit Kaur Chaudhary, presided over the function and gave prizes to the winners. Sunil Kumar and Poonam got the first two positions in singing while Praveen was adjudged the best actor in English play 'Toba Tek Singh'. Amanpreet was given the best dancer award.
Workshop held
Kanya Maha Vidyalaya organised a workshop on 'Career opportunities in electronic media'. Mr K. Deepak Gulati, Director, Delhi Film Institute, and Mr Babla Kochhar, a well-known voice on Discovery, National Geographic and History Channel were the key speakers. They said there were job opportunities in unconventional areas like film dubbing, presentations for corporate world, lending voice to recorded messages of mobile companies, and making announcements on railway stations and airports.
Freshers' party
The Department of Computer Science and Engineering and Mechanical Engineering, Lovely Institute of Technology, organised a freshers party. A variety of cultural items were showcased during which folk dances, classical dances, giddha, bhangra, mimicry and folk songs were performed. Sharanjeet Singh was chosen Mr Fresher and Deepika Thakur was crowned Ms Fresher after the modelling session.
Awareness programme
DAV Institute of Engineering and Technology organised an awareness programme on Internet banking. Mr J.P.S. Arora, Regional Manager, Chandigarh, talked about the process of payment of bills, draft, reservation of tickets and other utilities. Mr Bhupinder Singh, Chief Manager, SBI, Tanda Road, edified the staff for Internet banking.
Seminar on foeticide
The CT Institute of Management and Information Technology organised a seminar on female foeticide. The seminar was addressed by Lecturer, Ms Nivedita Chadha, for the students of MBA. She said due to sex-determination and sex-selective abortions, the sex ratio had fallen drastically. Mr Manhar Arora, Deputy Director, CT Institute, said only a change of attitude could bring a long term solution.
Career counselling
Career counselling and placement cell of Hans Raj Mahila Maha Vidyalaya organised campus interviews by ICICI Prudential. The students of M.Com-I and II, B.Com-III (regular), B.Com-III (professional), BSc-III, BCA-III, BSc (IT), MSc (IT) and MSc (computer science) appeared in the interview. Seventy two students appeared in the interview of which 30 were selected as financial advisors.
Lecture on Gita
Prem Chand Markanda SD College for Women organised a lecture on 'Role of teachers in present times with reference of teachings of Gita'. Mr Ashwini Kumar, former Principal, Doaba College, lauded the role of teachers as saviours of the society and nation.
An extension lecture was organised by the Sanskrit department of HMV College in which Dr Bhim Singh Vedalankar, Head of the Department, Kurukshetra University, talked about "Relevance of Gita in the modern era". He emphasised on the importance of selfless 'karma' in life and gave a message of detachment, renunciation, selflessness and humility for establishing peace in the world.
Personality development
A workshop on personality development skills was organised at KMV College. Dr Jatindra Mohan, former Head of the Department of Psychology, Panjab University, was the chief guest.
He asked the participants to write five negative and positive points about themselves, asking them to do their own psycho analysis. Various other exercises were conducted to improve their motivation.
Inter-college sports
Kanya Maha Vidyalaya won the inter-college taekwondo tournament held at Guru Nanak Dev University. The volleyball team from KMV Collegiate Senior Secondary School also won the first position in the zonal inter-school matches. Principal, Dr Rita Bawa, DPE Ms Sukhpal Kaur and Ms Ashoo Bajaj, congratulated the teams.
Anaemia testing camp
A blood grouping and anaemia testing camp was held at Guru Nanak Khalsa College, Daroli Kalan, in which blood group and Hb level of 250 boys and girls was checked free of cost. A first aid centre was also opened in the campus.