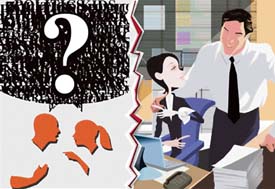 FROM FEAR SET FREE
City women are renegotiating the dynamics of relationships and learning to rework rules at work and home, reports Aruti Nayar
Reeta, (name changed), is an HR manager in Chandigarh firm that pays her fabulously but also makes demands, some of them very exacting, on her time and resources. Forced to juggle demands of home and work, made more intolerable if you throw in a spouse who does not understand the limitations of her dual role and the stress it produces and adds a couple of his own to the list. Just when she thought she had had enough and wanted to opt out, either out of the job or marriage (the latter being more difficult) she drifted closer to a co-worker. And soon enough she not only got a hanky, a shoulder but also loads of guts and grit. Illustration by Aditi Chahar


Mushrooming art
Veteran artist V. L. Mevada's Confidence is captivating not just for the innate vibrancy in his works but more so for the remarkable allegories that he creates through his subject, the forlorn mushroom! "Delicate—of indistinct colour, form and smell—a mushroom is like an individual taken out of his environment, indistinguishable. But give him the opportunity to flourish and an atmosphere to grow in and the individual will come into his own," explains the artist. Just like his mushrooms come to life, speaking eloquently, indeed being used as an example of life itself at this remarkable exhibition.





ARTY DELIGHT: Mushroom man V.L. Mevada. — Photo by Vinay Malik
Rajesh Kalsi is an artist with a social conscience. But what makes him likable is his ability to laugh at himself. His first ever solo exhibition Aa Dekh Tamasha —Series Blind that opens at Alliance Francaise art gallery on September 22 gives a glimpse of this young man as one goes through his 'introspective dialogue' that comes out through each one of his canvas.







ART MUSINGS: Rajesh Kalsi's paintings come with a heavy dose of social conscience. — Photo by Pradeep Tewari
Khosla, Ghosla & Dhakosla
As film buffs get ready to watch the well-loved star Anupam Kher do a Khosla Ka Ghosla with the film releasing this Friday, Dharam Pal speaks to him in a telephonic interview. Kher who has acted in over 300 films, with many a memorable performance, and is all excited about playing an ordinary man whose one dream is to have roof overhead for his family.
Tell us something about your role in Khosla ka Ghosla?
Khosla is an ordinary man and leading an ordinary life an ordinary manner and by the end of it he is very happy to buy a plot of land outside Delhi in Gurgaon and now his whole life is concentrated on that. And how a political tout grabs that land on the day of the Bhoomi Pooja and how the family gets the land back is basically the premise of Khosla Ka Ghosla.



Anupam Kher and Boman Irani in Khosla Ka Ghosla
Guru-mantra
He does not fit into the usual image of a management guru. In a pair of faded jeans and T-shirt he looks more like a model. Well, do not go by his looks. For Arjun Vatz, the Mumbai-based management guru and anchorperson is armed with a double master degree, one in human resource management and another in para psychology, and even before you open your mouth, he can read you like an open book!
Play within Play
Talking about life resembling art and vice versa sounds awfully clichéd but there is something in it. And it is more so when we go to the highly emotionally charged world of theatre. What the audience sees and what the critics comment on is the play but then there are many plays within plays. I recall my favourite Manohar Singh, legendary stage actor who passed away just three years ago but of whom no one really talks anymore, saying: "In theatre we burn our candles at both ends and so it extinguishes fast."

Mike is listening
Mike Welch is funny. Barely into Chandigarh and indeed India and he drew out peals of laughter from the students gathered at the British Library in Sector 9 at the launch of the Quick Reads and Talking Books programme.

FATHER FIGURE: Mike Welch. Photo: Manoj Mahajan



Dance like a man
This is the first time that I am seeing a man dancing like a man," said Nargis, the cinestar of yesteryear. This was when she saw a Bhangra dancer coaching Vyjanthimala and Dilip Kumar in the folksy steps for a sequence in Naya Daur, a film of the Fifties. Bhangra since then has certainly gone places and so have Bhangra dancers.
Avtar Channa
Campus Cafe
Disco Dandia 2006
Panjab University and so many colleges across the city are rocking to the melodious tunes of reverberating dandia music, rhythmically and gorgeously.
---