'We crave for higher wages, not higher ideals'
Sarvepalli Radhakrishnan wanted the education system to help the rising generations preserve their soul, honour and integrity. H.K. Manmohan Singh on the late President's vision of the system of instruction for India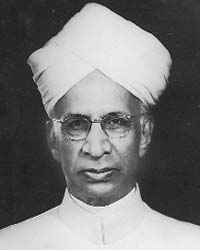 INDIA had a civilisation that was humane. She is gradually moving towards a civilisation that tends to be mechanical. Her values and ideals, her traditions and customs are all in a state of flux. This will be clear from the lack of concern for the core values for which India's education system stood for centuries.
The decision to celebrate Teacher's Day on September 5 was that of the Government of India but it was taken on a special request of the National Federation of Teachers that wanted Sarvepalli Radhakrishnan's birthday to be celebrated in this manner.
Although the university system in India is exotic, education as such is not. Well-documented researches, including those by Englishmen, clearly point to this fact. An early observation in this regard is by Sir Alexander Johnston, considered as a "high authority upon all subjects concerned with Oriental literature".
In a letter to Charles Grant, President of the Board of Control set up in 1784 under the Pitt's India Act, he wrote as follows: "Education has always from the earliest period of their history, been an object of public care and of public interest to the Hindoo Governments on the peninsula of India. Every well-regulated village under those governments had a public school and public schoolmaster. The system of instruction in them was that which, in consequence of its efficiency, simplicity and cheapness, was few years ago introduced from Madras into England and from England into the rest of Europe".
Sir Alexander's letter reads like a piece of romance and carries some interesting details of the system as well. The main point that he makes is that every parent regarded education as a "solemn duty which he owed to his God and to his country...."
Teachers brought up in the classical tradition are becoming a rare species. Radhakrishnan is thought of as an epitome of all that is best in this tradition. He did not think of education in terms of the various skills it imparts but as a means for enrichment of personality. His greatest anxiety was the growing disposition of the system "to despise cultural interests".
Culture, he wrote, "is not mere learning. It is discrimination, understanding of life. Liberal education aims at producing moral gifts as well as intellectual, sweetness of temper as much as sanity of outlook. Into the art of living, the cultured man carries a certain grace, a certain refinement, a certain distinction which redeems him from the sterile futility of aimless struggle. Culture is not a pose of intellect, or a code of convention, but an attitude of life which funds nothing human alien, common or unclean. An education that brings up a young man in entire indifference to the misery and poverty surrounding him, to the general stringency of life, to the dumb pangs of tortured bodies and the lives submerged in the shadows is essentially a failure".
He was equally worried over "the trend towards the governmental domination of the education process" which makes educational institutions behave like mercenaries ever willing to "promote the political purpose of the state". The University Education Commission which he headed drew special attention to the fact that, historically, the control of education by the state had been "an important factor in facilitating the maintenance of totalitarian tyrannies" and wanted the trend to be effectively resisted in the interests of democracy.
Visualising that India was "marching forth into the unknown" and there was a "good deal of loose and muddled thinking among the educated youth", he wanted the education system to be so designed that it would equip the rising generations to preserve their soul, their honour and integrity. He argued that if India had to make her "distinctive contribution to the progress of the world", it was imperative that she did not surrender her individuality. "We must not try to make for ourselves an English or a Russian soul" was his advice to the youngsters.
Radhakrishnan attached great importance to the study of religious and moral education. He regarded India's sacred writings as great literature which rouses us "to the value of spiritual realities" and turns our "eyes from the things which are merely temporal to the things which are eternal". Such a study, he maintained, will shame us "out of our complacency" and reveal to us "something of the immense capacity of the human soul for suffering and isolation".
He took special pride in his own civilisation and contributed all his learning to pouring "fresh life into ancient teachings by coming to terms with the new impulses created by contact with European thought." all through he held the view that being in touch with sacred knowledge delivers man from "narrow creeds and inflexible faiths which make even social relations difficult".
The true test of education — a theme to which Radhakrishnan turned again and again — lay not in the prizes the world has to offer but in enlarging human capacity to endure pain and hardship: "Buddha walked out of his palace to suffer... Christ is the man of sorrows. None who has not suffered to the utmost gets to the foundations of reality".
He expatiated on this theme in an address which he delivered to the Panjab University Convocation on December 23, 1930, when he was Spalding Professor of Eastern Religions and Ethics at Oxford University thus. "I want to lay special stress on the need for suffering and strength, as I suspect that a kind of new materialism has overtaken us. We seem to be coddling with comforts and are willing to use all our intellectual resources ruthlessly in the service of one end, material success. We are prepared to lay down our lives for higher wages and not higher ideals".
The teaching community has all but forgotten its time-honoured ideals. The trends in education are profoundly disturbing. Writing on the life and times of Henry VIII, Professor S.T. Bindoff observes that no one goes farther than the one who knows not whither he goes. It is time the teaching community reflected on the chaos that has descended on the education sector and acted before it was too late.
— The writer is former Vice-Chancellor, Punjabi University.