GARDEN LIFE
Winter annuals to adorn homes
Kiran Narain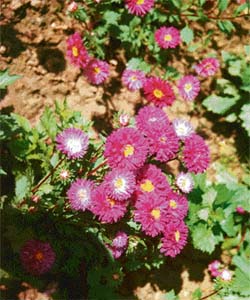 Asters make good cut flowers
Flowers and green plants have become an integral part of home and office decor now. Not only do they appeal to our aesthetic sense but also make the whole atmosphere calm and soothing for our mind, bringing the beauty of nature indoors.
Even though there is a vast variety of winter annuals which add beauty and colour to gardens during winters in the North Indian plains, there are a number of them which make excellent cut flowers and can adorn the interiors of your homes and work place. It will be a good idea to grow some of the following annuals in your kitchen garden only for cutting purposes. But in case you do not have extra space for that purpose, cutting a few flowers selectively from the flower beds will do no harm and will only prolong their flowering period.
Antirrhinum (Snapdragons): Vertical in form, these are among the most beloved of garden flowers for cutting. Tall stems in crimson, orange yellow, apricot, pink and white look very good in individual arrangements or in combination with target flowers.
Asters: They come in double as well as single varieties ranging from ray-petalled, Ostrich-plumed, anemone-flowered to giants and powder puffs; they come in an array of white, pink, mauve, magenta, blue, violet and purple colours. Loving an open sunny situation with good drainage and a little lime in the soil, they make good cut flowers.
Calendulas: Foolproof, continuous flowering annual in many shades of orange, apricot and yellow, Calendulas grow quickly and easily without much care. They generally are the earliest to bloom and the last to fade.
Candytuft: With flowers mainly in white but also in light pink or mauve, Candytuft grows better if sown in situ but can also stand transplanting. The hyacinth flowered Candytuft is of erect habit with white spikes and is most commonly used as fillers in bouquets and vases—mostly with red roses.
Larkspur: The erect spikes of closely formed flowers are in pink, white lilac, rosy scarlet, mauve and purple. Seeds may be sown in situ or seedlings transplanted in rich soil in a sunny location.
Stock: It has a unique fragrance and comes in pink, purple, white, etc. Vertical in form, it is widely used in flower arrangements.
Sweet Peas: One of the finest for cutting. Given proper cultural treatment, it will continue to bloom from early spring until early summer. For early flowers and rich blooms, Sweet Peas should be sown in August-September; 6 inches apart in two rows staggered and should be staked immediately. The row should run from North to South if possible and is best sheltered from strong winds by means of a tall wall or hedge. They like plenty of sunshine and fresh air. Use lime and a little potash regularly and your Sweet Peas will be free of disease. These come in pink, white, red peach, scarlet rich mahogany pure lavender and blue.
Sweet Sultan or Centaurea Moschata: Has flowers in shades of yellow, lilac, purple and white. The flowers last well both on plants or in water. Can be sown in situ or transplanted in a soil, which is fairly rich.
Sweet William: Basically treated as a biennial in colder climates, it is cultivated as a winter annuals in the plains of northern India. They are simply raised from seed sown either in situ and thinned out or the seedlings being transplanted about 12 in. apart. These make good cut flowers.