WORLD ELDERS' DAY fALLS ON OCTOBER 1.
Elders: stick to a balanced diet
Dr M.L. Kataria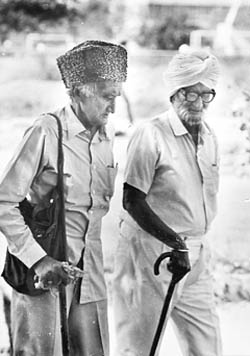 Elder: Doctor, give us a crisp and spicy message on geriatric health care on World Elders' Day (October 1).
Doctor: Eat, drink and be merry, but no extravagance.
Elder: What to eat, how much to eat, and what not to eat.
Doctor: A balanced daily diet containing proteins, carbohydrates and fats, in appropriate proportion of four, four and two of each respectively with a caloric value of 1800 to 2000. At the age of 65 years gradually reducing it to 1500 cal a day at the age of 80 years. This should keep you fit and agile.
Elder: I understand fats, but what are these proteins and carbohydrates.
Doctor: All non-vegetarian items like mutton, poultry, fish, milk, curd cheese and legumes and pulses are sources of proteins. All cereals, sugars, jaggery, potatoes, beet root sources of carbohydrates. Fats are saturated or non-saturated, from animal or vegetable sources respectively. Not more than 20 per cent of your daily fat requirement may be saturated fats whose sources are butter, ghee, etc.
Elder: I don't relish certain fruits like guava and papaya, and vegetables like brinjal and bitter gourd. Can you suggest alternatives?
Doctor: You must take all seasonal fruits and vegetables. The body requirement of minerals and salts is essential for proper physiological functioning of various vital organs and enzymes. These are scattered in various fruits and vegetables. Therefore, do not have taboos and prejudices against any fruit and vegetable.
Elder: I am 75 and for the last five years my problem of constipation is annoyingly increasing, in spite of daily night does of Agarol. Can you prescribe some simple remedy?
Doctor: For sluggish bowels with advancing age one needs to drink about 8-10 tumblers of fluids and water, and take plenty of fruits and vegetables. A brisk walk twice a day and yogic exercises, especially for abdominal muscles, should stimulate sluggish bowels without resort to laxatives.
Elder: Doctor, you advised us to check our lipids once or twice a year. Please tell us what these lipids are.
Doctor: Lipids are cholesterols derived from fats during the metabolic process in the body, specially liver. There are several types of lipids, some are friendly and some unfriendly. Total cholesterols should preferably remain below 200 mgs in the blood serum. Among the friendly lipids, the high density lipids should be around 50 - 70 mgs. Among the unfriendly lipids, the Triglycerides should not excel 170 mgs and the low density lipids not more than 130 mgs.
Elder: What are the ill effects of lipids?
Doctor: Excess of unfriendly lipids have a tendency to get settled in the arterial blood vessels, impede blood circulation and may even block the capillaries, the smaller end-arteries. For instance, heart attacks are due to the blockage of capillaries supplying blood to the heart muscle itself.
Elder: How best can we keep the lipids within safe limits?
Doctor: Low fat diet, restricted saturated fats and regular exercise to burn out the excess of fats and lipids.
Elder: Please name some most notorious items of diet, which we should take with caution to keep our lipids within limits.
Doctor: Saturated fats like desi ghee, butter and yolk of eggs.
Elder: Do you advise extra-diet vitamins for the elders?
Doctor: Low absorption of vitamins from a sluggish digestive system in some elders may need a supplement of an antacid capsule containing vitamins A, B, C, E and some minerals to neutralise the harmful radicals generated in the body during metabolism and normally not neutralised due to age.
May you all score a century and more!