United colours of textile technology
Neeraj Bagga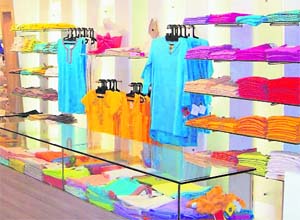 Raymonds, Reliance, JCT, Vardhman group, Jayshree, Reid and Taylor, Trident, Birla VXL Ltd. are some of the leading brands that are snapping up students trained in textile technologies like dyeing and printing.
With the textile industry getting a new thrust, it is beckoning more and more ambitious, imaginative textile graduates to help it meet the growing demands of the sector.
The Guru Nanak Dev University, Amritsar, introduced B.Tech (Textile Chemistry) with specialisation in dyeing, printing and finishing in 1996. The course is being run in the Department of Applied Chemical Sciences and Technology. It is a four-year course with eight semesters, and is duly approved by the All-India Council for Technical Education, New Delhi. It holds the distinction of being the only Textile Chemistry course in north India.
Placement prospects
With 100 per cent assured campus placement in the textile industry, this is a field young science students can hardly afford to ignore. Graduates of the department get good placements, receiving pay packages ranging from Rs 12,000 to Rs 50,000 per month. It also offers fellowships for doing Ph.D degree. Currently, five students are pursuing it.
Apart from placements in textile firms, its graduates can opt for higher education. They can join M.Tech courses at IIT, Delhi, and go for doctorate degrees. They can take admissions in universities abroad for higher studies. Numerous students from this department have been admitted to postgraduate courses in US and Canadian universities.
Eligibility
Admissions to the department are on a purely competitive basis.
The students who have done plus two with non-medical can sit for the Common Entrance Test (CET) and All-India Engineering Entrance Examination (AIEEE). As many as 85 per cent students are selected from the state level CET and the rest from the central level AIEEE. In all, the department has 30 seats to offer, out of which 10 are either for NRIs or NRI- sponsored candidates and the remaining (20) depend upon merit in afore-mentioned competitive examinations.
Research route
Various researches of the department are funded by the University Grants Commission (UGC), Council for Scientific and Industrial Research (CSIR) and All-India Council for Technical Education (AICTE). It also has collaboration with the Institute of Himalyan Bio-Resource Technology (IHBT), Palampur, at the national level for development of natural dyes.
It has introduced the garment technology course from the current academic session, which will open up opportunities in export-oriented garment houses. It boasts of a Textile Industrial Service Center (TISC), approved by the International Wool Secretariat (IWS), now known as Woolmark company, for wool mark commercial testing. It makes available the service of various types of tests to the textile industry on a payment basis.
Each student has to undertake a research project during seventh and eighth semesters to explore a research problem.
It has sophisticated laboratories to train its students for new challenges. The Dye Chemistry Laboratory trains students in numerous aspects of dyes, including their synthesis, analysis, identification, pre-treatment and dyeing of textile materials. Another lab is that of Computer Colour Matching. Equipped with DATA colour spectrophotometer with colour laser printer, it prepares students for colour analysis, recipe prediction, colour measurement and comparisons, in addition to other quality control parameters. It has a Textile Testing Laboratory and Dye House too.
Dr Kamaljit Singh, who heads the department, carried out a joint project on eco-friendly dyes with Dr John A. Taylor of the University of Manchester Institute of Science and Technology (UMIST), UK. The project was nominated by the British Council and UGC, New Delhi, under their Higher Education Links (HEL) programme. As part of it, he was a visiting scientist at the UMIST for three years.
Keeping in view the demand of course, the department may introduce M.Tech from the next session.
Other institutes in the country offering B.Tech (Textile Chemistry) are the TITS, Bhiwani, and the UDCT, Mumbai.