COLUMNS



THIS ABOVE ALL

SIGHT AND SOUND

GOOD MOTORING

AUDIO SCAN

MUSIC ZONE

WEBSIDE HUMOUR

FOR CHILDREN



CROSSWORD

RHYME TIME

ROOTS
Pinjore Gardens
First birthday at 500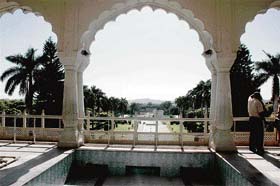 Yadavindra Gardens in Pinjore is all set to celebrate its anniversary for the first time in five centuries. This Mughal legacy, founded by Nawab Fidai Khan, passed through the hands of many rulers before it was bought in the late 18th century by the ruling Patiala family, which restored to it some of its lost splendour. Now, the Haryana Government is going all out to make this landmark flourish. Geetanjali Gayatri reports.
Beyonce's beauty secret
While she has recently signed lucrative deals with some top cosmetics firms, it seems she hardly uses any on her own face, for Beyonce Knowles recently revealed her top beauty tip for perfect skin is to never wash your face with soap or cleansers.