Of people and places
Jamila Verghese
So Many Journeys
by Shiela Gujral Allied publishers. Pages 142 Rs 295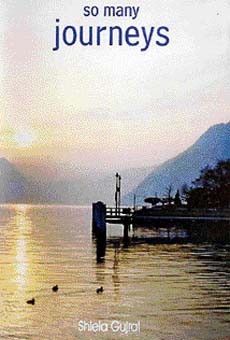 THE rust gold gleam of placid water on the cover of Sheila Gujral's latest book says it all. So Many Journeys is a panorama of a life experienced in many places and on several planes of existence. She extols the joys of solitude and writes with sensitivity. She pleads for rehumanising of the mind.
The lapping water seems to accompany the reader as one joins the writer in looking back at the kaleidoscope that has been her life. We follow her through girlhood incidents that saw her share others' joys and sorrows. When a loved neighbour's son (who had been awarded the death penalty) was let off with a reduced sentence, she caught herself thankfully chanting the Gayatri mantra. This phase was short lived as she found her mind wavering between accepting and denying the existence of a heavenly Creator. Later, she pleads for religion to be released from compartmentalisation and the 'rehumanisation of the mind'.
We follow her through the early Gandhian era when she was imbibing the ideas that challenged the British Raj, even though her father and his family were firmly with the status quo.
She informs us with a quiet chuckle that when she studied with Inder Gujral, her fellow economics student at Forman Christian College, Lahore in undivided India, she never in her wildest dreams had imagined he would one day be her husband and Prime Minister of an independent India.
The rest of the book speaks of her travels with her husband through diverse countries and of her exposure to different societies, their people, their literature and the interesting surprises they some times spring upon her. The Gujrals' stint in the Soviet Union was at a time when Russia had no fruit or vegetables in the government-controlled shops. As and when brinjals appeared for 10 days in the year, they made their presence felt at every dinner table in Russian high society. She applauds a 'new-found spirit of frankness and objectivity'.
Her deep empathy with Mrs Gorbacheva is very touching, as she writes how she was finally given a befitting funeral by the State after all her travails. Some piquant phrases appear. About the US she writes, "One has to dig deep to explore the warm tender limbs of America."
Poetry is in the author's blood stream. Sheila Gujral has become well known as a prolific poet in three languages, Hindi, Punjabi and English, with a number of books to her credit. Throughout the collection, a strain of sadness runs together with a poetic appreciation of every aspect of life: the good and the bad which she encountered , the friends and people round the world that brought balance back to lives torn apart by man-made divides.
The many journeys bring us to Pope John Paul II's visit to India in 1986 and its impact for the good. Prime Minister Inder Gujral had given Mother Teresa the country's respect by having her body laid on the gun carriage that had earlier carried Gandhiji to his rest .
The book ends on a note of good cheer for the future of the written word when she sees her ten and a half year old grand daughter working on what seemed like an instant book.