food talk
Creating a stir
Stir-fries are low in fat content. One can prepare a colourful mélange in a jiffy that beats the good old boiled veggies hollow, says Pushpesh Pant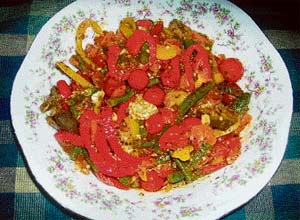 IF one is to believe the food lore then the 'stir-fries' were 'invented' in China to cope with an acute shortage of fuel. Whatever was to be cooked was cut or shredded into very small pieces and put on high flame for a short time. The meats or the vegetables were constantly stirred to ensure even cooking.
It was not long before other virtues of this method were discovered. One could enjoy the natural tastes much better, the dish was a delightful 'eye candy' and the play of contrasting and complementary textures enhanced its seductive attractions.
More recently, in the era of increasing health concerns yet one more plus point is often talked about: stir-fries are very low in fat content. You can easily prepare a colourful mélange in a jiffy that beats the good old boiled veggies hollow. The availability of a variety of exotic vegetables also means that experimentation is limited only by the imagination of the cook.
CHEF'S delight
Ingredients
Sweet bell peppers (one red another yellow) two
Brinjal (round variety, and firm) one
Carrots (medium) two
Cherry tomatoes 50 gm
French beans 50 gm
Limejuice ½ tsp
Mixed herbs of choice a pinch
Salt to taste
Vegetable oil 1 tbsp
Method
Wash all the vegetables, pat dry then core and slice the peppers, cut the carrots into thin rounds, string the beans and into bite-size pieces, dice the brinjals. Heat oil in a thick-bottomed shallow pan and put the vegetables one by one—brinjals first, then carrots and beans and the peppers last. Keep stirring but with a gentle touch. Sprinkle the herbs (or the chaat masala) with the salt and finally the cherry tomatoes. These should ideally just be glazed with oil and display a hint of exposure to heat. Sprinkle the limejuice, remove from flame and enjoy.
The stir-fries allow you to decide on the fly so to speak to treat your (unexpected) guests to a Chinese classic, a continental novelty or an intriguing oriental beauty. The trick is to vary the spicing; a dash of soya sauce, chilly oil or a pinch of mixed herbs replacing a very small sprinkling of home-made chaat masala.
Purists may insist that the delicacy deserves only a wok but we have learnt by experience that a heavy bottomed non-stick frying any other shallow pan is fine. Half teaspoon of limejuice blended with honey transforms this beauty to a refreshingly different sweet 'n' sour original.
Just a few words of caution; the recipe appears deceptively easy. If the magic of rangbirangi is to work, you must avoid short cuts.
Trying to save time by bunging in whatever is at hand can ruin it. Careful thought must go into diverse elements that allow the diner to savour different colours, tastes, and textures. At all costs resist the temptation to replace sweet bell peppers with green capsicum—its bitterness will ruin your efforts.
Similarly cherry tomatoes can't always be substituted with ordinary tomatoes. An overdose of carrots or shredded cabbage cab only set the dish adrift in the direction of a 'hot' salad that few can relish honestly. However, dices of brinjal are quite easily interchangeable with paneer or tofu cubes.
Finally, this is not a gravy dish—drape it with sauce prepared separately if you can't live without tari but please don't try to generate it in the cooking pan with rangbirangi.