HOLLYWOOD HUES
Vamps off the ramp
The comedy takes a swipe at the dog-eat-dog world of fashion journalism, writes Ervell E. Menezes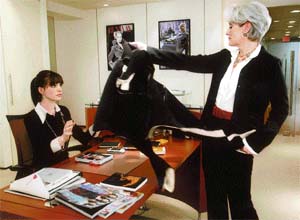 Anne Hathaway and Meryl Streep in The Devil Wears Prada
WELCOME to the world of fashion where super slim divas clacking their stilettos want to make it big. But they have to encounter the high priestess or one of the most powerful women in fashion, the editor of fashion mag Runway, Miranda Priestly (Meryl Streep).
The movie is based on Lauren Weisberger's bestseller. It is a delightfully dishy novel about the all-time most impossible boss in the history of impossible bosses.
Flaunting disdain and scorn in equal measure, Miranda fires her assistants with the speed of summer lightning. Into this highly rarefied, super-charged world steps comparative simpleton Andy Sachs (Anne Hathaway), out to pursue a journalistic career. It is her enlightened experience that forms the meat of The Devil Wears Prada, a delightful if somewhat stretched out comedy.
"America is my country and Paris is my hometown," goes one of the lines in the good-in-parts script and don't we know how Hollywood has glorified these two cities. It is like Eliza Doolittle's "learning experience," only it is super-hyped with the various designer brands to keep up with the times. Like Faye Dunaway in Network (1976), Meryl Streep oozes iciness and contempt, displaying one more facet of her wide repertoire and in Anne Hathaway she finds a willing accomplice who does not long to "talk the talk and walk the walk," encouraged by colleague Nigel (Staley Tucci).
But it is first assistant Emily (Emily Blunt) who gives her the first taste of humiliation and seems to relish it. As for the rest of the staff of Runway, they are clackers only waiting to do the boss's bidding. That the tables will be turned is not surprising but director David Frankel drags his feet too much. There's so much of needless patter that it dilutes the sting.
But at least the climax is refreshing and does take a swipe at the dog-eat-dog world of fashion and journalism where the price one pays for success is scarcely worth the effort. Once again reminiscent of Network in which Peter Finch was the only actor to get a Best Actor Oscar posthumously.
Anne Hathaway is excellent, displaying a wide range of emotions and Meryl Streep does full justice to the bitchy part. Stanley Tucci also shows his versatility (remember him as the gay dancer in Shall We Dance?) but also has the best lines. There are good cameos by Adrian Grenier as Andy's boyfriend and Emily Blunt as the thorn in her side.
But the walk (or is it a ride?) on the ramp could have been breezier.