Forgotten voice
MASTER MADAN
There has never been a singer like Master Madan who sang with a touch of the divine. There has been no effort to keep the memory of the child prodigy alive either in Jalandhar where he was born or in Shimla where he lived. Pran Nevile, who recently organised a concert as a tribute to Master Madan in Delhi, reconstructs the life of the maestro.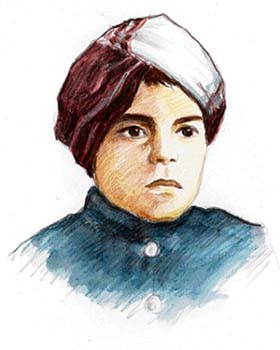 I have been holding functions in Delhi to honour the great singers of yesteryear who brought popular music to the masses. Led by K.L. Saigal, these luminaries included Pankaj Mullick, Kannan Devi, Jagmohan, S.D. Burman, Malika Pukhraj, Begum Akhtar and others. Master Madan was a singer who created waves because of his gifted voice. When reminded by someone about the child prodigy, I set out to research his life and times.
Fondly remembered by music lovers all over the subcontinent for two eternal melodies Hairat se taq raha hai jahan-e-wafa mujhe and yun na rah rah kar hamen tarsaiye, the child prodigy with his mature, perfectly modulated and unbroken voice created a sensation in the world of music. These two ghazals penned by Sagar Nizami still retain their magical appeal even after a lapse of over 70 years since they were recorded (1935). Those were the days of gramophone singers who brought music to the masses. The radio and the talkies were still in their infancy. Public concerts were immensely popular occasions where people flocked to hear leading singers from different parts of the country. Then there were the princely states from Mysore in the south to Patiala in the north, which extended their patronage and invited accomplished artistes to sing at their courts. Even at his tender age, Master Madan had cast such a magical spell on his listeners that in his day, he surpassed many a luminary of the music world in drawing crowds to his public performances.
Perfect performer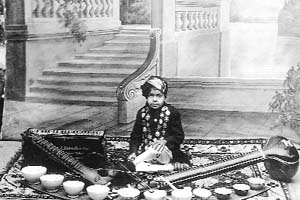 A file photo shows Master Madan with various musical instruments
No wonder, he received repeated invitations from princely states and the aristocracy who showered gold medals and presents on him. So much so, it is said that even Mahatma Gandhi who was on a visit to Shimla in 1940, could not attract the expected crowds at his meeting since on the same day there was a concert where Master Madan was singing. The crowds chose to listen to him.
Master Madan was born on December 28, 1927, in his ancestral village Khanekhana founded by Akbarís courtier, Abdul Rahim Khanekhana, in district Jullundhur. During the British days this village was famous for its crafts especially ivory-inlaid wood work. It is said that Madanís grandfather, Ram Singh, built a house there in 1928 called ĎMohan Niwasí where musicians often used to assemble for singing sessions but since the family settled down in Shimla/Delhi they seldom visited their village. His father Sardar Amar Singh was a Government of India employee working in the Department of Education, Health and Land in New Delhi/Shimla. He was himself a keen music lover and was quite good at playing the harmonium and tabla. Madanís mother Puran Devi was a deeply religious woman and was responsible for Madanís spiritual leanings from early childhood. His brother Mohan, 13 years older to him, was an accomplished singer and violinist.
Madan was a very handsome lad with deep-set eyes. Endowed with the appearance of a child-saint, he was raised in a musical environment and his sister Shanti Devi, 14 years older to him and an accomplished singer, taught him music from the age of two. Master Madan was amazingly quick in grasping the nuances of classical ragas and the intricate techniques of modulating the voice accordingly. He followed it up by learning from the eminent musician Pandit Amarnath, later a well-known composer of Bollywood, and Gosain Bhagwad Kishore.
Regular riaz


K.L. Saigal
Along with his elder brother Mohan, he did his regular riaz (practice) with full devotion. Madan had his early schooling at Sanatan Dharam School at Shimla with his residence in New Bootele Building of Lower Bazar, which has been the family dwelling for nearly eighty years. Later, he passed his matriculation from the Ramjas School in Delhi and joined Hindu College. He was a bright student, but lost as he was in his devotion to music, he did not socialise much or participate in sports and other activities. According to contemporary accounts, he was always elegantly dressed in princely style, wearing gold chains, bedecked with medals and a shining turban.
It is learnt from authentic sources that when K.L. Saigal was working with Remington Typewriter Company in Shimla he often visited their house to meet Master Mohan, Madanís elder brother. Saigal would bring his harmonium and both of them had long singing sessions with Madan (who was only two) attentively listening to them.
Shanti Devi has mentioned an unforgettable train journey from Kalka to Shimla with Saigal, Mohan and Madan. They had kept singing all the way, much to the amusement of the passengers. Later after Saigal had joined New Theatres Calcutta, he always looked after Master Mohan and Madan whenever they visited Calcutta. In fact, Saigal became very fond of Master Madan and admired his instinctive knowledge of music and his mastery in singing intricate classical compositions with perfect ease in his heavenly voice.
According to available records Master Madan gave his first public performance in June 1930 at the Dharampur Sanatorium. Then only three and a half years of age, he created a sensation and the audience was just wonderstruck on hearing his Hey sharda naman karun and another composition in Dhrupad. Not only did he receive a rapturous applause but the eminent classical singers present there pronounced that there was something unearthly in the gifted child as no such performance had ever been heard before and no one in India at that time could possibly match him. The news spread like wildfire all over the country and there was unprecedented media coverage with even the The Hindu of Madras carrying a photograph of Master Madan. Adored as a child prodigy, he soon became a cult figure and got invited to every major musical event organised in different parts of India. Shimla being his summer residence, he was a special favourite of the ruling princes of the hill states of district Shimla. As a result, Master Madan was always on the move along with his brother Master Mohan who was both a classical singer and a violinist. It is said that Master Madan was paid Rs 80 for a local performance and Rs 250 for an outstation concert. On an average he gave about 20 performances per month. However it was not his love of money that made him sing so much but more his devotion to music and the singing seemed to provide food for his inspired soul.
Miracle in music world
Acknowledged as a miracle in the musical world, Master Madan became a legend and a household name in the country. He was counted among the most illustrious boys of Indian history. His universal acclaim even inspired the poet-laureate Maithili Sharan Gupt to make a special mention about Madanís musical genius in his famous Indian history book written in narrative verse Bharat Bharathi.
Master Madan had boundless faith and devotion to the then greatly respected Sant Nand Singhji Maharaj who is said to have predicted his premature death. Once on Santjiís bidding, Master Madan sang raag Jaunpuri with such dedication that the audience felt a touch of the divine and experienced an illusion of a godly figure appearing on the scene, which vanished when Madan sang Bhairvi. Deeply religious, Madan always carried the picture of Guru Nanak Dev and his rosary beads to pray. Sometimes he would even forego his sleep and get lost in meditation.
Already a renowned radio artiste, Master Madanís fame even induced one filmmaker to come to Shimla and offer him a role in his film on the life of Saint Kabir. His parents however declined the offer since films as a profession did not command much respect then. They also feared that the young lad might get spoiled in Bombay which was considered rather remote. After his untimely demise, they regretted the decision since they lost the chance of seeing him in a film.
Madanís last public performance took place at Calcutta where he is said to have enchanted the audience by singing raag Bageshwarió Binti suno mere Avadhpuri ke Basaiyaófor an hour and a half. He received a resounding applause and one of the listeners promptly gifted him Rs 500 (a princely sum in 1942) as a token of appreciation. On his return, Madan stopped over in Delhi and stayed with his sister Shanti Devi and her husband Inder Singh who treated him like a son. He used to carry Madan on his cycle to the radio station at Delhi, then located on Alipore road.
Failing health
It was in Delhi that Madan caught a fever but still continued with his radio programmes. His fever persisted and no medicine seemed to have any effect. As the summer set in, he went over to Shimla but even this change and the cooler clime did not improve his condition. As time passed, Madanís forehead and other bone joints started shining. It was then suspected that someone had fed Madan mercury. There was a rumour that some other singer, stirred by jealousy, had mixed mercury in his milk, which he used to drink at the All India Radio canteen. Anyway, his condition continued to deteriorate and the end for this great whiz kid and musical genius finally came on June 6, 1942, at Shimla even before he turned 15.
There were other rumours about the cause of his death. It was said that some singing girls at Ambala had invited him to their kotha and mixed some harmful substance in his paan, which acted as a slow poision leading to his eventual death. Another rumour blamed someone in Calcutta for giving him a poisonous drink after the miraculous performance there. Some others attributed Madanís premature end to the familyís greed, which made him perform every other day, travelling all the time without respite. The excessive strain and exhaustion played havoc with his health hastening his end.
More than 60 years have passed since Master Madan departed but no one has yet appeared on the music scene to match his mastery of Hindustani classical music and his melodious unbroken voice. Though Sagar Nizamiís two ghazals immortalised Madan there are six more songs, which were recorded and are held by the family and some collectors of music; these include two Punjabi melodies as well. It is a pity that in spite of several radio programmes during 1931-42, the AIR archives have nothing whatsoever. If preserved, these recordings would have been a national treasure for music lovers.
It is matter of regret that though the masterís voice has immortalised him, we have done nothing so far to honour the memory of this great prodigy, the pride of Punjab. I donít think there is any auditorium or even a street or road named after him anywhere either in his birthplace, Jalandhar, in Shimla where he lived, or in Delhi
(For helping me in this research, I would like to thank my friend Khalid Hasan, an eminent Pakistani journalist and his classmate M. Rafiq of London, both music connoisseurs, who provided me with valuable information about the child artiste. Among others who helped me in my research were my friends Prof. Madan Sharma of Shimla and a great music collector, M.S. Bindra.. Above all, I am indebted to Master Madanís nephew Jaspal Singh Pali, son of his elder brother Master Mohan, who gave me rare published material and photographs.)