Bollywood beat strikes a Chord in Europe
Liz Mathew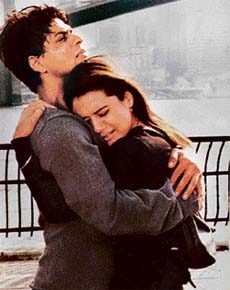 Karan Johar's Kal Ho Na Ho was a hit in Austria
Bollywood rocks — quite literally — in Western Europe where India's mega film industry has helped it carve a new identity with Hindi tracks as the latest rage at parties and as ringtones and even Shahrukh Khan's eyebrows a subject of conversation.
This is not the Middle East or North America with their large Indian populations, but that hasn't stopped Bollywood films, its heroes and heroines and its songs from becoming a rage.
It's not just the 150,000-odd Indians in Switzerland, Germany and Austria shaking a leg to Indian tunes or downloading them as mobile ringtones. Others are doing it too, and adopting the likes of Shahrukh, Aishwarya Rai, Hrithik Roshan and Kajol as role models.
"Hindi films are so beautiful, the actors dress up in such nice colours. It's very exotic and oriental," exclaims Sonja Rauchenberger, a business administration student in the University of Vienna.
"I love Shahrukh Khan. He looks so stylish. His eyebrows are beautiful," gushes the student who says she has seen Kal Ho Na Ho at least 15 times.
"Bollywood is the theme here. Youngsters are crazy about Indian cinema and stars," Kristina Huber, a German studying in Zurich, said.
The colour, spectacle, dance, music and the sheer exuberance of Hindi films have found many takers in this part of the world.
"I love the colourful dresses and dances of Hindi films," says Miliciia, a Serbian girl in Vienna.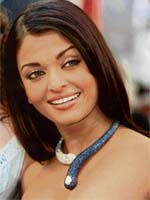 Posters and DVDs of Aishwarya's films can be easily found in Germany
"I especially enjoy the romancing in Hindi movies. The way the hero and heroine flirt is interesting to watch. It's so entertaining," adds Michael Muller, another student in the Austrian capital.
"Aamir Khan is also good. But he is somewhat short," analyses Viennese student Daniella.
Quick to cash in on the trend, two television channels — RTL II (German) and Rai Uno (Italian) — have recently started telecasting Indian movies at least twice or thrice a week.
A German magazine focussing on Bollywood was also launched recently. The first issue of Indien-Magazin had Shahrukh on the cover in a still from his latest, Don.
Besides, a news agency, BNA-Germany, specialising in Indian cinema with focus on Bollywood, has just got off the ground.
"Bollywood has popularised the Indian way of living," says Anjum Amirtham, a Pakistani married to an Indian in Zurich.
"A casual ride in the tram can get you to hear the songs of the latest Karan Johar hit Kabhi Alvida Na Kehna, or from his earlier Kal Ho Na Ho as mobile ringtones. In local department stores, you will find posters and DVDs of Shahrukh Khan or Aishwarya Rai's movies," discloses Amirtham, who says the craze in Switzerland has caught on essentially over the last year.
Amirtham was recently asked by a Swiss woman to organise a Bollywood theme birthday party for her granddaughter.
"She wanted people dressed as Bollywood dancers to dance to Hindi film songs for the party. She got it videotaped and the CD was presented to the birthday girl." Posters announcing a forthcoming programme by a Bollywood dance troupe in October are already up in Zurich, Vienna, Frankfurt and Cologne.
"The other day, our postman wanted tickets for the Bollywood dance show. He said his teenage daughter was a diehard fan of Hindi movies," Amirtham says.
"Another time, a Swiss woman brought me a picture of Preity Zinta and said she wanted a dress exactly like her." According to Jasmin Perumadan, an Indian settled in Vienna, Shahrukh, Aishwarya, Kajol and Hrithik Roshan have become role models for her friends in the city.
"It's just been two years or so since this craze for Indian movies has begun," Perumadan said, adding: "Now there are some dance classes and dance studios in Austria, Switzerland and Germany that teach Bollywood-style dances."
"It's funny to watch Shahrukh or Kajol say their dialogues in German — because Hindi movies are dubbed in German, we enjoy them thoroughly. But the songs are shown in the original," Radhika Lokesh, minister in the Indian Embassy in Berne, said.
Take a bow, the stars, producers and the many nameless others who make up India's powerful Hindi film industry. — IANS