Abhishek sexiest
Asian male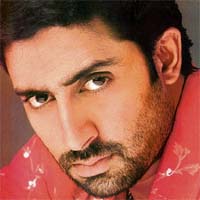 Abhishek was on top because of his appeal to the thinking woman
Bollywood star Abhishek Bachchan tops a list of 50 Sexiest Asian Men in a survey conducted by Eastern Eye, an Asian newspaper published in Britain. Abhishek, who was on number three last year, was shocked to hear he had topped the ranking in Eastern Eye's Sexiest Asian Men of 2006.
"Oh God really? That's interesting. Shocking actually. Are people blind? But wow, I would like to thank everyone. I don't agree with them but it is sweet," said Abhishek in a press statement.
Indian actress Priyanka Chopra was voted Sexiest Asian Woman of 2006 in last week's edition of the Asian tabloid.
Actor John Abraham, who won the Eastern Eye's title last year, is at number two. British Asian boxer Amir Khan is at third place, making him the sexiest male of the community in 2006 — a stunning rise from 44th place last year that reflects his boxing achievements this year.
"I am regularly informed by our female readers and staff about how 'fit' Abhishek is. He should be overjoyed. At least he can now claim to have won an honour that his legendary father has not," said Hamant Verma, editor of Eastern Eye.
Amitabh Bachchan was ranked at number 16. Other British Asians in the list include singer Jay Sean and actor Naveen Andrews.
The list was compiled by the staff at Eastern Eye, Britain's most popular Asian newspaper, and published in its September 22 edition.
"Abhishek was on top because of his appeal to the thinking woman. Having successfully stepped out of his father's shadows as an actor in his own right, he will surely build on that with roles in Umrao Jaan, Dhoom 2 and Guru his year," said reporter Gouri Sharma, who compiled the list with colleague Anjali Mehta.
"No doubt his famous stubble will become fashionable with young Asian men across the country," added Gouri.
The top 10 sexiest Asian men are: 1 Abhishek Bachchan 2 John Abraham 3 Amir Khan 4 Hrithik Roshan/ Dino Morea 6 Yatin Sonic 7 Upen Patel 8 Arjun Rampal 9 Saif Ali Khan 10 Jay Sean. — IANS