Itís all about poise ó Priyanka
Subhash K. Jha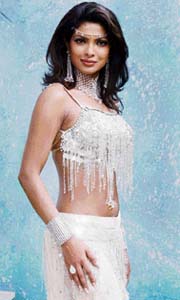 Priyanka Chopra, who has been chosen Asiaís sexiest woman by Eastern Eye, an Asian newspaper published in Britain, says she is flattered by the honour because sheís never really thought of herself as attractive.
"That was news to me. It was specially flattering because I was in the reckoning along with some of the sexiest women in this country," Priyanka told IANS from Adelaide.
"Bipasha Basu got the honour last year. Sheís truly sexy. Iíve never considered myself sexy. In fact, Iíve never even thought myself as attractive. And my last few films like Krrish and Aap Ki Khatir have hardly featured me as a femme fatale. Though my next release Don does feature me as ultra-chic." Ask her to define sexy and Priyanka hems and haws.
"Hmmmm. To me itís certainly not about taking off oneís clothes. My sexiest character to date was in Aitraaz. And I played the man-eater fully clothed. Sexy is not about skin. Itís about attitude and poise." Is she having fun in Adelaide? "Thereís no fun here. Just work. Iím shooting for Harry Bawejaís Love Story 2050, and itís turning out truly well." Priyanka plays her careerís first double role in Love Story 2050.
"I play this timid starry-eyed dreamer. Then I play this hot woman-of-the-world. Itís a fantastic role. It gives me a chance to go through a spectrum of physical and emotional changes." She is pining to get home.
"Iím fast becoming an NRI. My suitcases never get unpacked. Hey guys, Iíve a life, a family and friends."
ó IANS