Cancer patient gets new lease of life
Kuldip Bhatia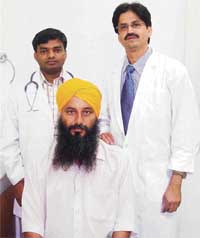 Dr Dinesh Goyal (left) and Dr K.C. Mukherjee along with patient Nirpan Singh in Ludhiana on Thursday. — A Tribune photograph
Ludhiana, October 6
The will of the Almighty and skills of a team of cardio-thoracic surgeons at a private hospital here helped save the life of Nirpan Singh, a middle-aged city resident and the sole bread winner of his family.
Nirpan Singh's world had come crumbling down sometime back when he learned that he had been suffering from cancer of the right main windpipe.
He was suffering from recurrent bleeding from the windpipe, for which he was investigated. It was revealed that his right lung was nonfunctional and had collapsed.
Addressing a news conference here yesterday in the presence of the patient, Dr Dinesh Goyal, a consultant pulmonologist at the hospital, said the final diagnosis turned out to be lung cancer in the form of a low-grade tumor of right main windpipe, which was causing obstruction to air flow in and out of the right lung, thus causing bleeding.
He said: "Before coming to us, the patient had sought consultation at several hospitals and everywhere he was advised removal of the lung. Complete removal of the right lung (which is bigger of the two lungs) would have rendered the patient incapacitated. This would also have stood in the way of earning his livelihood for his family."
According to Dr Goyal, when the patient was referred to the hospital, the cardio-thoracic team took it as a challenge to treat the disease without making him handicapped.
"After study of his condition, we decided to do a lung sparing tumor removal surgery, which is a rare surgery, also called sleeve resection pneumonectomy. This is a very complex procedure and requires an advanced expertise and experience," he explained.
A team of surgeons, headed by Dr K.C. Mukherjee and supported by a team of Dr A. Shrivastava, Dr Paresh Shah, Dr G. Majumdar, Dr A. Gupta, along with Dr Goyal, performed the three-hour-long surgery on Nirpan Singh in which the tumor, as well as part of the windpipe and a small portion of the lung was removed. Rest of the lung was joined back to the main windpipe.
The patient regained consciousness on the operating table and did not require any artificial respiratory support.
The recovery was uneventful and the patient was discharged from hospital the 10th day.
Dr Goyal said Nirpan Singh, coming regularly to the hospital for follow-up, was now symptom-free and carrying out his routine work.
His follow-up virtual bronchoscopy by multi-slice CT scan showed excellent healing of the windpipe with fully expanded right lung.